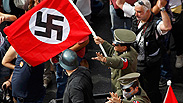 Swastika flaf - anti-Semite protest
Photo: Reuters
A new study by Prague's Jewish community has registered a significant increase of attacks against Jews on the Internet for the second straight year.
The annual report on anti-Semitism released Monday said the number of Internet attacks, including texts, photos and videos, jumped to 156 in 2013 from 82 in 2012.
The report said the pro-Israeli stance of the Czech government was among the reasons for the attacks.
Besides the Internet attacks, it said anti-Semitism in the Czech Republic remains at a relatively low level with one physical attack registered last year and three attacks on Jewish property.
The report concluded that the situation regarding anti-Semitism has been "quiet" in the Czech Republic compared with other European countries such as Hungary and France.