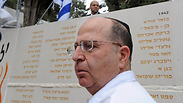 Defense Minister Moshe Ya'alon (archives)
Photo: Ariel Hermoni, Defense Ministry
Israel must tackle anti-Arab hate crime with an "iron fist," Defense Minister Moshe Ya'alon said on Monday at a memorial day ceremony for fallen soldiers and those killed in terror attacks.
Earlier, police confirmed arresting seven minors over racist graffiti and spitting at a priest.
The Israeli authorities are facing mounting pressure to rein in a spiralling wave of so-called "price tag" hate crimes by Jewish extremists targeting Arab Israelis and Palestinians, with new racist vandalism attacks being reported on an almost daily basis.
And commentators have warned that a continued failure to tackle the phenomenon could end up triggering a violent backlash.
"We must strive to be a state... that fights to the end against racism, against violence and against xenophobia," Defence Minister Moshe Yaalon said at a memorial day ceremony for fallen soldiers and those killed in terror attacks.
"A state that must fight with an iron fist against the terror which is wrongly called 'price tag' – an ugly phenomenon which has no connection to Jewish values and morals, and whose aim is to harm Arabs only because they are Arabs," he said.
His remarks came as police said they had arrested seven Jewish minors over racist acts and vandalism.
Four are suspected of spraying racist graffiti at a building site by an Arab village near Jerusalem, and another three were picked up for spitting at a priest by Jerusalem's Old City and for carrying flags scrawled with the words "revenge" and "price tag".
Price tag is the euphemism for nationally-motivated hate crimes by Jewish extremists which predominantly target Palestinian property, but have also included attacks on other non-Jews as well as leftwing Israelis or the security forces.
Such attacks, which tend to involve vandalism and trademark racist graffiti in Hebrew, began sporadically in the West Bank several years ago with settlers seeking to exact a "price" for state moves against illegal settlement outposts.
But since then, they have spread into Israel. Despite hundreds of arrests, hardly anyone has been prosecuted, raising questions about the government's willingness to tackle the problem.
During the first and second Palestinian uprisings (1987-1993, 2000-2005), a single stone thrown at an Israeli bus would see Israel's Shin Bet security services and police investigators acting rapidly to round up, arrest and prosecute those involved, often within hours, he wrote.
Last week, the US State Department for the first time included mention of price tag attacks in its global report on terror, saying such incidents were "largely unprosecuted".
Former Shin Bet chief Carmi Gilon wrote an op-ed for Yedioth Ahronoth in which he claimed the Shin Bet could in fact put an to 'price-tag' attacks. "The head of the security service, which is in charge of maintaining Israel's security and values against subversive and terrorist activity, does not need a government decision in order to realize that the "price tag" activity is a real threat to the safety of all citizens," Gilon wrote.
According to him "experience shows that such activity deteriorates to terrorism for all intents and purposes and could inflame the situation among Israel's Arabs… The Shin Bet is tasked with many responsibilities, and so the key question is prioritization.
"Because of the huge damage that "price tag" activities could inflict, there is no escape but to allot all the intelligence and operational tools and the security service's best manpower in order to destroy this phenomenon," Gilon added.
On Sunday, Justice Minister Tzipi Livni said she would back the idea of defining such acts as "terrorism".