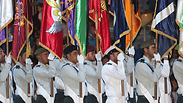 Ceremony at Mount Herzl
Photo: Motti Kimchi
Israel concluded its Memorial Day events and turned to celebrating its 65th anniversary on Monday evening. Celebrations kicked off with the traditional lighting of the torches ceremony in Mount Herzl, this year by 14 women from all walks of Israeli culture.

After the last prayers were said for Israel's fallen, the flag on Mount Herzl was raised once again to full mast and the traditional torch lighting ceremony commenced.

This year, the ceremony is held under the theme of "the time of women", at the initiative of Culture Minister Limor Livnat. The tribute honors the contribution of women to the State of Israel and Israeli society in various fields such as science and technology, culture, economy, security, education, and other arenas, a press release issued by the Ministry of Culture and Sport wrote.

According to the press release, the special emphasis was also chosen in aim to increase public awareness about the challenges that Israeli society still faces in its fight for fundamental rights to equality, dignity and personal security.

"I commend the 14 women chosen to light the torches this year," Livnat said. "Each made a significant contribution to the advancement of the country and Israeli society. All are worthy, and (all) have had impressive achievements…"

Knesset Speaker Yuli Edelstein said this year`s theme is a "wonderful theme for Independence Day," adding that "the stories of the women who are lighting the beacons this year are touching and inspiring," a press release from the Knesset read.

The 14 women lighting the torches in the ceremony Monday evening are:

Miriam Zohar: Acclaimed theater actress and a 1986 Israel prize winner. Zohar was born in Bukovina, Romania. A Holocaust survivor, Zohar arrived in Israel in 1949, where she established an illustrious career in theater arts.

Dr. Kira Radinsky: a researcher at the Technion – Israel Institute of Technology. Radinsky (27) appeared on MIT's list of top 35 innovators under the age of 35.

Hindia Suleiman: founder of a women's entrepreneurial venture in the Israeli-Arab village of Bu`eine-Nujeidat. Suleiman's three sons served in the army. She runs an art center where women sell their artwork, and greatly contributes to the empowerment of women in her village.

Maxine Fassberg: CEO of Intel Israel. Fassberg contributed greatly to the development of Israel's economy, and was awarded with the Manufacturers Association of Israel Prize for 2011.

Carmela Menashe: a military affairs correspondent for Israel Radio and recipient of the Emet Prize for Science, Art and Culture. Menashe was the first woman on Israeli radio to take on a role that was previously dominated by men.

Miriam Peretz: Peretz is an educator and mother of two army officers who were killed in military operations.

Belaynesh Zevadia: Israel's ambassador to Ethiopia. She arrived to Israel at the age of 17, and is Israel's first Ethiopian ambassador.

Rabbi Adina Bar Shalom: Educator (and daughter of late Shas spiritual leader Ovadia Yosef), who established the Haredi College in Jerusalem. Bar Shalom greatly advanced higher education among ultra-Orthodox women.

Tali Peretz-Cohen: Director of a rape crisis center in the Galilee and Golan. Peretz-Cohen raised national awareness on the issue of sexual assault.

Orna Barbivai: The first woman in IDF history to hold the position of major general.

Geula Cohen: former Likud MK and party founder. Cohen fought in pre-state underground Jewish paramilitary groups Irgun and Lehi, and is an Israel Prize winner.

Gal Yoseph: a 17-year-old student who is the chairwoman of the National Students Council. Yoseph will light the torch with Geula Cohen.

Shahar Peer: Israel's most successful ever tennis star. Pe'er was once rated the world's 11th best female player.

Pascale Bercovitch: a film director, journalist and Israeli Paralympian who competed in the 2012 London Paralympics. Bercovitch volunteered to serve in the IDF after making aliyah.