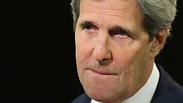 Mulling release of principles document. Kerry.
Photo: AFP
WASHINGTON - The United Stateson Monday denied dismantling its peace negotiations team following the collapse of the Israeli-Palestinians peace talks led by Washington.
Deputy State Department spokeswoman Marie Harf dismissed reports that US Secretary of State John Kerry had decided to dismantle the team of American negotiators who have been based on the ground in Jerusalem for months trying to push forward the Israeli-Palestinian peace process.
Chief negotiator Martin Indyk, a former US ambassador to Israel, had returned to Washington for consultations, Harf confirmed, after last week's April 29 deadline for a deal passed in a stalemate.
Related stories:
"We're going to see where this goes from here and, you know, figure out what makes sense in terms of staffing," she told reporters, saying "we have some senior officials that will be going soon" to the region, without going into specifics.
Indyk has "returned for consultations, but there's no dismantling" of the team, she said, dismissing as "inaccurate" a report in the Israeli press to that effect over the weekend.
Haaretz daily said Sunday, quoting Israeli officials, that Indyk was preparing to resign and return to his post at the Brookings Institution think tank.
It also said National Security Adviser Susan Rice would be travelling to Israel this week for consultations as Washington prepares to resume nuclear talks with Iran.
Indyk was said to have been quoted anonymously in an interview in Yedioth Ahronoth, in which US officials blamed Israel for the breakdown in the talks and said Prime Minister Benjamin Netanyahu "did not move more than an inch."
Harf insisted no one side was to blame, saying "both sides did things that were incredibly unhelpful." She did confirm, however, that Kerry, who was returning Monday from a week-long tour of Africa, was mulling whether to release a document laying out some of the principles reached during the nine months of talks, although no decision had been made.
And Harf insisted the situation was not worse than it had been before the start of the talks in July.
"Even if these negotiations eventually don't work, in the nine months, you have put the issues on the table," she said.
"You've talked about them. Maybe you've seen something where, whenever we start this process again, it will help us make progress faster or make better progress or go further."