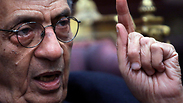 Hamas must recognize the existence of Israel if the Palestinians are to move forward with their hopes of establishing their own state, former Arab League chief and Egyptian foreign minister Amr Moussa said Wednesday.

"It is normal for the Palestinians to reconcile," Moussa said of a recent unity deal struck between the Hamas militants who run the Gaza Strip and the Palestinian Liberation Organization.

However, "I believe that Hamas should declare its acceptance of the Arab initiative of 2002, which is the map of normalization and recognition of the State of Israel, together with the establishing of the Palestinian state and the withdrawal of the occupied territory," he insisted.

Related stories:

"If Hamas does do this, it would be a major step in the direction of formulating a favorable all-Palestinian policy towards the Palestinian-Israeli conflict."

Hamas and the Western-backed PLO, which is dominated by Palestinian President Mahmoud Abbas's secular Fatah party, signed a surprise reconciliation agreement on April 23 in a bid to end years of bitter and sometime bloody rivalry.

Under terms of the deal, the two sides would work together to form an "independent government" of technocrats, to be headed by Abbas, that would pave the way for long-delayed elections.

The move angered Israel, which said it cannot be expected to negotiate with a government that includes members of a party sworn to its destruction.

Egypt, which was once close to Hamas, has outlawed the Islamist militant movement after the Egyptian army ousted President Mohamed Morsi, a senior member of the Muslim Brotherhood from which Hamas stems.

The 2002 Arab Peace Initiative was launched by Saudi Arabia and backed by the Arab League.

Under the plan, Arab states would forge full diplomatic relations with Israel in exchange for a withdrawal from land it occupied during the 1967 Six-Day War or mutually-agreed upon land swaps.

Moussa, who was Egypt's top diplomat from 1991 to 2001 before becoming secretary general of the Arab League until 2011, is close to former military chief Abdel Fattah al-Sisi, who is tipped to win next month's elections in Egypt.

Abbas held "positive" talks with Hamas chief Khaled Meshaal in Doha Monday in the first meeting since their surprise unity deal last month, Palestinian officials said.

However, the deputy leader of Hamas, Moussa Abu Marzuq, insisted earlier this week that despite the unity deal his group would never recognize Israel.

"We will not recognize the Zionist entity," he told a press conference in Gaza City.