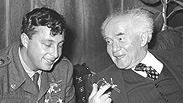 David Ben Gurion and Ariel Sharon
Photo: IDF Archive
For decades it was used by Israel's prime ministers, and countless fateful decisions in the State's history were decided within its walls. Now, for the first time since its establishment, the Prime Minister's Office building in the Kirya compound, which houses the IDF high-command, is open, but only to a select few who will be quick enough to sign up for the historic tour.
The building was built in 1930 as a private residence within the the Sarona Templar colony. In 1941, most of the Gemran Templars were deported from Israel by the British mandate, fearing their connections to the Nazi regime, and it was then turned into a military base. In 1947, as the British were leaving, the building became the David Ben Gurion's office and on May 18, 1948 Israel's first government meeting took place in it.
Related stories:
Though at the end of 1949 the government offices were relocated to Jerusalem, every Thursday since, the prime minister, from David Ben Gurion to Ariel Sharon, continued to use the building as their Tel Aviv office.
The office will be opened to 100 visitors as part of the architectural event "Open House" in Tel-Aviv . This year, for the first time, the Defense Ministry will open its gates and invite the public to visit the historical structures at the base.
Only 100 visitors will get to see the place in two tours of 50 people each, to be held on Friday, May 23. In the coming days Tel Aviv Municipality will publish the tour registration information and the first hundred registrants will take part in the tour.