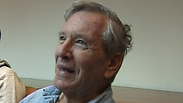 'It doesn't matter what the Palestinians do. Amos Oz will always condemn the Israelis'
Photo: Roee Gazit
Amos Oz sits on the Public Council of B'Tselem, alongside one Adv. Hussein Abu Hussein. That same Abu Hussein has claimed that Israel is worse than a Nazi country, that it is a monster, and that it's not enough to speak against the monster, but that something has to be done.

Oz is right to claim that there are rabbis who back the Hilltop Youth hooligans. But when Oz sits together with Abu Hussein on the same public council, he legitimizes him. The connection between certain rabbis and "price tag" phenomena should be condemned, but it seems that the last person who has the right to preach is Amos Oz. Talk about the pot calling the kettle black.

Hate Crimes

Acclaimed Israel author Amos Oz slams price tag attacks and those behind them, claiming perpetrators 'enjoy support from nationalistic and even racist legislators.'

Yair Lapid can relax too. Before the last elections, Oz argued that (former Labor chairwoman) Shelly Yachimovich was worse than (former prime minister) Ehud Barak. It's true that Barak led Israel to unprecedented concessions. It's true that he accepted Bill Clinton's proposal for a permanent status agreement between Israel and the Palestinians. And it's true that Yachimovich adopted Clinton's outline. And it's true that the Palestinians were the ones who turned down Clinton's proposal, but Oz has eyes and he refuses to see. He has ears and he finds it difficult to hear.

It doesn't matter what the Palestinians do. Amos Oz will always condemn the Israelis. Once it was Yachimovich. Now it's Lapid.

The Hilltop Youth phenomenon is also being addressed by Oz with terrifying exaggeration. There isn't a single right-wing politician left who has not condemned them, and so it's time to say, "enough is enough." Because this group of graffiti artists and tire slashers makes most of its political gain from the condemnations. And when the condemnation comes from Amos Oz – their achievement is all the greater.

It's unclear how many young people are involved. There could be dozens. But the past few weeks have created the impression that this is one of the strongest political movements in Israel.

So we should put things in order. One far right-wing party ran in the last elections. One of its members, Arieh Eldad, is far from that group. The other member, Michael Ben-Ari, is suspected of being close to that group. But this party, and this is the important thing, did not even pass the electoral threshold to make it into the Knesset.

In Sweden, thousands of people are members of neo-Nazi movements. They even have a magazine, Storm, which spreads defamatory and anti-Semitic statements. Any reasonable examination would reveal that the right, which can be viewed as neo-Nazi in the most enlightened countries such as Sweden and Norway, not to mention France and England, is much stronger than the far right in Israel.

But one can rely on Amos Oz and his friends from the radical left to distort the picture. After all, there are some parts of the left that turn all of Israel into a racist monster on any occasion. So isn't it wonderful that there is a handful of hooligans on hand to help them?

Amos Oz and his friends on the left have some valid claims, and these should be heard. But the blindness on the left is no different to the blindness on the right.

There used to be a national left. There used to be a responsible left. There used to be a Zionist left. All of them are disappearing.

The relevant and vital left of the past has narrowed the great gulf that should exist between itself and people like Abu Hussein. The radicalizing rhetoric of Oz, the master and rabbi of the left, shows that he is bridging that gulf better than anyone.