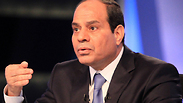 Al-Sisi talks to the media
Photo: AFP
CAIRO -- Abdel-Fatah al-Sisi, Egypt's former military chief who is poised to win the presidency in elections later this month, said in an interviewed aired Sunday that he said he would not allow a religious leadership, which is how he said his ousted rivals the Muslim Brotherhood tried to present itself, to exist in parallel to the state and its religious institutions.
Al-Sisi was speaking with the Emirates-based Sky News Arabia, giving his first televised interview as a presidential candidate to foreign media. The first part of the interview was broadcast Sunday. Riding on a wave of nationalist fervor, the 59-year old al-Sisi faces a single rival in the May 26-27 vote. The media and supporters tout him as the nation's savior for ousting the elected Islamist president, Mohamed Morsi, in July following massive rallies against him and a rising specter of civilian infighting.
Al-Sisi repeated his criticism of Morsi's term in office and the Brotherhood's rise to power, saying the group maintained a parallel leadership and was concerned about amassing power and not solving the country's problems. He said the group must reassess its ideology.
Al-Sisi said the Brotherhood has lost the trust of Egyptians. "It is their problem, not mine. They need to reevaluate themselves," he said, accusing the group of turning a political problem into a religious war.
"It is not an animosity, it is not revenge between me and them," he said.
The government has branded the Brotherhood a terrorist group, accusing it of orchestrating a violent campaign to destabilize the country. The Brotherhood denies it adopts violent means and accuses the government of seeking to smear its name.
Thousands of Morsi supporters and leading figures in his Brotherhood are behind bars on charges varying from holding illegal protests to inciting and carrying out violent attacks and cooperating with foreign militant groups. More than 1,300 were also killed in the security crackdown on protests.
Al-Sisi refused to comment on mass trials and sentences against Brotherhood members, including a death sentence already issued against the group's leader Mohammed Badie on charges he instigated violence. The sentence can be appealed. He said the courts are independent and the law must be respected.
Prosecutors on Sunday said seven alleged Muslim Brotherhood members were sentenced to life in prison for blocking a highway and damaging a security post outside of Cairo last summer after security forces violently broke up sit-ins supporting Morsi.
Another court on Sunday sentenced 36 students from an Islamic university in Cairo to four years imprisonment for taking part in a December protest against Morsi's overthrow.
The crackdown has widened to include secular and non-Islamist critics of the current interim government's campaign to quell dissent, including issuing a draconian protest law that bans all political gatherings and protests without prior permission and imposes heavy fines and jail times for violators.
Al-Sisi defended the law and repeated his concern for improving security and fighting terrorism, saying police must be given the chance to combat militants and not be distracted with protests. "We want to give the police the chance to work with its current capabilities in better circumstances," he said.
The turmoil in Egypt has also included violent attacks against security forces and the military, most claimed by militant groups who say they are avenging the authorities' crackdown on Islamists and protesters. The government says more than 400 policeman and military troops were killed in that violence.
On Sunday, security officials said suspected militants attacked an army convoy in the restive Sinai Peninsula, killing one soldier and wounding another.
The former army chief said he has plans to make improvements in people's living conditions within two years but will step down if they rise up against him - without waiting for the army to remove him.
The protesters were complaining that a year into office Morsi and his Islamist group the Muslim Brotherhood were monopolizing power. Morsi refused to step down or hold a referendum on his leadership following an ultimatum from al-Sisi.
The military also moved in to replace longtime autocrat Hosni Mubarak in 2011 after days of protests against him. Mubarak stepped down, and the military ruled for a transitional period before Morsi was elected as part of the Brotherhood's steady, subsequent sweep at the ballot box.
Al-Sisi said he has plans to make improvements in people's living conditions within two years but will step down if they rise up against him -- without waiting for the army to remove him.
"Do you think I will wait for a third time? If people go down to protest, I will say, I am at your service," he said. "I can't wait until the army asks me to (step down), I can't be like this. I fear for my country. I fear for the people."
Al-Sisi retired in March to run for office, but he was a career military officer and is unlikely to be at odds with the armed forces, which have provided all of Egypt's presidents except for Morsi since 1952. Al-Sisi was head of military intelligence when the uprising against Mubarak erupted in 2011 and was promoted to defense minister by Morsi.
This was al-Sisi's second televised interview of the campaign. Last week, he gave his first interview to two Egyptian private TV stations. He has so far made no street appearances campaigning because of security concerns.
Al-Sisi said he plans to be frank with Egyptians about the extent of their problems, hoping they will lower their expectations and line up behind him to solve the country's challenging economic and security problems. "We say if things go according to our planning, they will see improvements within two years."
Al-Sisi said widening poverty, rising internal and external debts and an energy crunch are the country's most pressing economic problems.
"On my own, I can't" solve the problem, he stressed.