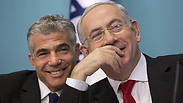 Prime Minister Benjamin Netanyahu and Finance Minister Yair Lapid
Photo: EPA
Prime Minister Benjamin Netanyahu and Finance Minister Yair Lapid struck a deal Monday that will see Likud take control of the influential Foreign Affairs and Defense Committee in the Knesset.

The committee will be headed in rotation by Deputy Freign Minister Zeev Elkin and coalition chairman Yariv Levin, both of the Likud, a move approved by the panel itself.

Yesh Atid MK Ofer Shelah, his party's candidate for the committee, lost out on the position, but instead a representative from Lapid's party will be appointed as an additional deputy minister either at the Defense or Foreign Ministries. Meanwhile, Shelah has made it clear he is not interested in a deputy minister's post.

Related stories:

Labor MK Omer Barlev, who sits on the committee, storngly criticized the deal, saying that "there has to be limit to the lack of leadership and the crushing of democratic mechanisms in the Knesset."

"The Foreign Affairs and Defense Committee, which has been stymied and in chains for the past six months, needs a permanent chairman to create a continuous work plan. The emerging rotation disrespects the committee's work, the Knesset, Israeli democracy and Israel's safety," added Bar Lev.

Likud officials had accused Yesh Atid of trying to strongarm Netanyahu into accepting a commitee chairman with whom he did not work well.

"You can't force a Foreign Affairs and Defense Committee chairman on the prime minister," said the officials before the agreement was reached.

"Netanyahu simply doesn't want Shelah in this position due to a tense personal relationship, given the animosity between Shelah and Netanyahu's family."