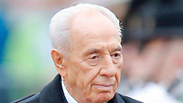 President Peres
Photo: Reuters
President Shimon Peres hit back Monday to Prime Minister Benjamin Netanyahu's proposal to cancel the presidency saying "that it is common in democratic regimes to have both a prime minister and a president; however, the Knesset would eventually have to decide its fate."

Peres also made it clear that he would not extend his term, not even by a single day: "I was chosen for seven years and the right thing to do is to obey the law and finish my term when it ends".

Netanyahu's proposal, which includes postponing the Knesset vote for the Peres' successor and at a later stage canceling the office of the presidency in Israel, has been rejected almost across the political spectrum, and even inspired dissent in his own Likud party.

However, on Monday, with the opening of the Knesset's summer session, senior coalition partners Yisrael Beitienu hinted they could support a bid to postpone the vote.

Related stories:

Ministers and MKs from the party decided they would support the vote on the condition it includes the basis for a future shift to a presidential political system – as opposed to a parliamentary system as is currently prevalent in Israel.

The party has long been an advocate for changing the governance system in Israel along more republican lines, and they view the bid to cancel the presidency in its current form as chance to lay the groundwork for such an eventual shift.

Knesset Speaker Yuli Edelstein announced that he will announce the date of the election for the presidency next week. The president is elected in an anonymous ballot by MKs.

Justice Minister and Hatnua Chairwoman Tzipi Livni also indiciated she would be willing to consider the idea during in a party faction meeting, and said that in the meantime there seems to be just talk and no real proposal to be discussed.

"When there will be something concrete and not just talk, then we will come together and decide our position. "

Unlike Lieberman and Livni, Yesh Atid Chariman Yair Lapid and Bayit Yehudi leader Naftali Bennett did not address the issue during their respective party meetings.

Shas Chairman Aryeh Deri expressed his opposition to the proposal, saying "I completely reject the idea of postponing the presidency. It is inconceivable that because of foreign interests, there are those who attempt to cancel the presidency."