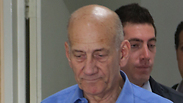 Olmert was sentenced Tuesday morning
Photo: Motti Kimchi
Former Prime Minister Ehud Olmert was sentenced to six years in prison and fined NIS 1 million in court in Tel Aviv on Tuesday morning for his role in the 'Holyland Affair', the real estate corruption case considered the largest of its kind in Israeli history.
The case marks the first time a prime minister was convicted of a felony and now, with his sentencing, the first time a former prime minister has ever been sentenced to jail time.
Tel Aviv Court Judge David Rosen convicted Olmert at the end of March of two charges of bribery, and said he accepted NIS 560,000 ($160,000) from developers of the Holyland project of in Jerusalem at the time he served as the capital's mayor.
Olmert's spokesman Amir Dan said he would appeal both the verdict and the sentence to Israel's Supreme Court. "This is a sad day where a serious and unjust verdict is expected to be delivered against an innocent man," Dan said, shortly before sentencing.
Related Stories
Regarding the entire affair, the judge said "those who give bribes are corrupt, but those who receive it inspire disgrace and cause the public to lose faith in the State. A public servant who accepts bribes is equivalent to a traitor."
Judge Rosen further said that the graft charges Olmert was convicted of include moral turpitude.
The judge ruled that the seven jail sentences handed out on Tuesday would begin on the first of September and fines would be paid out in 10 payments.
Additional sentencing included Hillel Cherney, who was the developer behind the Holyland project and was sentenced to 3.5 years in prison and fined NIS 2 million. Cherney was convicted of 19 offences of corruption and a slew of additional corruption and break of trust offences.
Danny Dankner, the former chairman of Israel's second-biggest bank, also received three years in jail during Tuesday's senctencing. Dankner, who is now the joint chairman of Israel Salt Industries, was also fined a million and half shekel.
Avigdor Kelner, also a developer in the project, who was convicted of two corruption charge in the affair, was sentenced to three years and fined NIS 1 million.
Former Jerusalem Mayor Uri Lupolianski, who succeeded Olmert as the city's mayor, and Dankner, were both charged and convicted of offering hundreds of thousands of dollars in bribes to a government official to rezone land for the project.
Olmert reportedly used the money to pay the debts of his brother Yossi and close personal debts he acquired during his campaigns, paid to his assistant Shula Zaken, who weeks before the end of the trial became a witness for the prosecution in a plea bargain deal which Judge Rosen is expected to reject on the claim that the testimony of Olmert's brother, and not that of Zaken, was what incriminated the former prime minister .
The case broke in 2010 on the strength of a businessman, Shmuel Dechner, who was involved in the project and turned state's witness. Dechner died last year from an illness.
Ehud Olmert was also accused of asking the middleman to help out city engineer Uri Sheetrit, who also had money woes. Sheetrit later dropped his opposition to the broad expansion of the Holyland complex, which burgeoned from a small development into a massive, high-rise project that sticks out from its low-rise neighbors. According to the indictment, Sheetrit received hundreds of thousands of dollars in bribes.
Among those also sentenced on Tuesday was Sheetrit, who was sent to prison for seven years.
Associated Press and Reuters contributed to this report