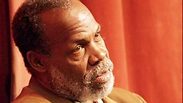 Actor Danny Glover and 10 others have complained that a film in which they are appearing is being showN as part of the annual Tel Aviv documentary film festival, DocAviv, and have expressed their support for a boycott of Israel.

Glover, most famous for his turn as Mel Gibson's sidekick in the Lethal Weapon action series, co-signed a statement that was sent to the anti-Israel website Electronic Intifada.

"We stand in solidarity with the people of Palestine, and support their call for cultural and academic boycott of Israel," said the statement.

Related stories:

The statement expresses their signatories' displeasure at discovering that the film was being screened at DocAviv, a decision they say was made without informing them.

"As people featured in the film … we were shocked to find the film slated to be screened at the DocAviv festival in Israel on May 13th and 15th. This was scheduled without our knowledge."

Those behind the statement maintain that they wanted to pull the film from the festival asked for the film to be withdrawn but "festival organizers and film producers informed us that this was not possible and they would move forward with the screening, over our objections. This film uplifts the life work and legacy of Grace Lee Boggs. She has explicitly stated her support of the boycott (against Israel) and believes this screening is in direct contradiction to her legacy and ongoing work".

The DocAviv festival, which is held every spring, includes documentaries from all over the globe, including the Arab world. On this year's program is "Write Down, I Am an Arab", profiling the late Palestinian national poet Mahmoud Darwish, and "Is the Man Who Is Tall Happy? An Animated Conversation With Noam Chomsky". The 10-day festival closes on May 17.