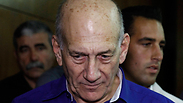 'Olmert is about to pay a heavy price for his love of the good life'
Photo: AP
I am not sure what hit Ehud Olmert harder deep inside, his harsh six-year prison sentence or the words that preceded it. Because the punishment is something he will still be able to bargain over. But he won't be able to erase the words Judge David Rozen hurled at him on Tuesday.

These words will forever be written in disgrace in the entry of a corrupt prime minister - the first prime minister in the State of Israel to sit in jail, and they will soon be joined by all the terrible comments that are now eternally tied to his name.

Prison Sentence

Op-ed: Former prime minister may be a convicted felon, but he is not Satan. His jail sentence is not a cause for celebration.

I doubt there will be any room let for the other things Olmert achieved as prime minister. Will he also be mentioned as the person considered by quite a few people as one of the best prime ministers we had here? Will there be space to note his courage in cases we learn about from foreign sources, his efforts to reach a peace agreement with the Palestinians or the fact that his term was a golden age in the State of Israel's relations with the world?

Or maybe all that will remain are the words of the District Court judge, who sometimes seemed to be expressing aversion more than anything else. Not just towards the former prime minister's acts, but towards his personality too.

It doesn't take a psychologist to realize that Rozen didn't like Olmert. He didn't like the arrogance, the contempt, the self-confidence of a defendant convinced that he would wriggle out of trouble, that the Holyland case was insignificant. Olmert's limited court appearances definitely did not help, nor did the tales of hedonism, which the judge was familiar with from previous affairs, and the way the defendant and his lawyers treated the state witness.

The judge's scorn towards Olmert could be seen in the verdict, and for those who had not yet received that impression – the sentence came along and left no room for doubt. The judge chose the harshest words to describe Olmert's acts, words which point to strong emotions. Words like traitor, contamination, decay, hatred, impurity - the lowest, most humiliating semantics.

Traitor? Even those who believe that the punishment is justified, and that the verdict did not leave any room for a reduced sentence, must agree that the judge went too far. A judge who is part of society should know that there are words which are bigger than the actions they describe, that the associations they evoke are too emotionally charged. You don't send a person to prison, definitely not a former prime minister, with the word "traitor" written on his forehead. I think there are enough words in the dictionary to summarize Olmert's acts which could have been used.

This is not the final act. Olmert will file an appeal with the Supreme Court, and many months will pass by before he goes – if he does indeed go – to prison. Until then he will continue living among us, if one can call it a life. The appeal in the Holyland case is not the only thing awaiting him. There are other cases waiting, even before an investigation into obstruction of justice allegations or new evidence provided by Olmert's former bureau chief, Shula Zaken, as part of her plea bargain.

Investigations, trials, appeals, lawyers, enemies and former friends knitting at the guillotine, spiteful schadenfreude and finally the abyss of forgettenness – this is what awaits Olmert. The man who loved the good life, who loved it so much that the bite he took of it was far too big, is about to pay one of the heaviest prices for his excesses.

People say he is a strong man, levelheaded, with unusual stamina even in the toughest situations. They say he is surrounded by a warm and supportive family, and by good friends who will not desert him in this difficult time. This time, I'm not sure it will be enough.