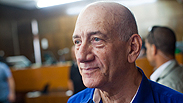 Ehud Olmert in court on Tuesday before his sentencing
Photo: Yotam Ronen
With one president already behind bars, the Israel Prison Service (IPS) is accustomed to dealing with high-profile prisoners, but how will it handle a former prime minister?
The prison service will need to learn how to deal with an entirely new kind of challenge if Ehud Olmert will indeed start serving his sentence on September 1st, in accordance with the resounding ruling made by Tel Aviv District Court on Tuesday
Aharon Franco, Commissioner of the IPS, said in an initial response to the ruling: "We will sit with the relevant bodies, this is a different kind of figure, the likes of which the prison service did not deal with in the past. This is an exceptional case that requires thinking and implementation, which we will do starting from today."
Franco added that like any other inmate that goes to jail, Olmert will undergo a sorting process which will evaluate threats of escape, threats of injury to him and concerns regarding suicidal threats. "We will analyze his personality, sit with our professionals and relevant sources," Franco added.
Related stories:
Internal Security Minister Yitzhak Aharonovich, the minister in charge of the IPS, said on Tuesday that he had already discussed the subject with Franco. "The preparations have to start; in practice we have already started. If and when Olmert goes to jail, the IPS will provide the best possible response. This is a man who knew a lot and still knows a lot, and therefore we have to prepare properly. His knowledge and roles require from us different preparations."
"He probably won't be confined with Haredim"
A former senior prison officer in the IPS spoke with Ynet about the difficulties in treating "the most high-ranking prisoner in IPS history". According to him, "it's no small headache for the prison officer. IPS is responsible for the safety of every prisoner, but when it's a former prime minister, each decision you make is examined both by IPS and by external sources. It's a very heavy responsibility."

Following the verdict that sent Olmert to six years in prison, the IPS will check which prison will hold him and which inmates will be staying in the same wing with him. Like other prisoners who come from their homes before starting to serve their sentence, he will undergo an early screening before entering. IPS will need to take into account the opinions of IPS men who are responsible for the security of Ehud Olmert, considering his status as a former prime minister.

"We have a lot of issues to consider, including which prisoners will be in the same wing and cell with him, who can he come into contact with and where there will be concerns from inmates who will hurt him," a IPS source said.

"We had a similar problem when the former president Moshe Katsav entered the prison, but ultimately we found a solution and he was placed in the religious wing of the Maasiyahu prison, which is considered minimum-security. But it's doubtful that Olmert will be confined in the same wing with haredi prisoners."
Six year sentence
Israel's ex-prime minister Ehud Olmert was sentenced to six years in jail on Tuesday for taking bribes in a real estate deal, a crime the judge said was akin to treason.
The first criminal conviction of a former Israeli head of government all but ended speculation that Olmert - a centrist credited internationally with working towards a peace settlement with the Palestinians - might return to political life.
Olmert has made several criticisms of Prime Minister Benjamin Netanyahu's policies toward the Palestinians, fuelling talk about his future political ambitions. But the judge said Olmert's crimes entailed "moral turpitude", which under Israeli law would preclude him from running for public office for seven years after finishing his jail term.
A lawyer by profession, Olmert began his political career in the 1970s as a lawmaker who targeted organised crime in Israel.
He was mayor of Jerusalem from 1993 to 2003 and prime minister from 2006 to 2009, staying in office in a caretaker capacity until after an election that brought right-winger Netanyahu to power.
As Israel's leader, Olmert waged war against militants in Lebanon in 2006 and the Gaza Strip in 2008.
He claimed significant progress in talks with the Palestinians aimed at securing a final peace deal, offering an Israeli withdrawal from much of the occupied West Bank. But no agreement was reached.
After a three-year break, US-brokered negotiations resumed in July, but they were frozen last month by Netanyahu after President Mahmoud Abbas's Palestine Liberation Organization signed a reconciliation deal with Hamas, an Islamist group that advocates Israel's destruction.
Palestinians blamed Netanyahu for the collapse, citing Israeli settlement-building and his failure to carry out a pledged prisoner release.Olmert was among 13 defendants in the Holyland case. Sentences handed down on Tuesday against six of the other accused ranged from three to seven years.