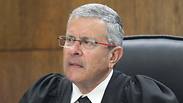 Judge David Rozen. 'From his high seat, he acted like a power-stricken person'
Photo: Motti Kimchi
Treason is the most serious offense in the Israeli book of laws. The only offense carrying a death sentence. "Traitor" is also the title Judge David Rozen chose to attach to Ehud Olmert, a former Israeli prime minister who was convicted of bribery and was sentenced to six years in prison on Tuesday.

Humility, Maimonides wrote, is one of the most important characters of a judge. That list also includes wisdom, awe, incorruptibility, love of truth and love of mankind. Judge Yehoshua Gross, who quoted Maimonides, explained that a judge needs humility because of the fear that he will see himself as a person above the common folk, a sort of god.

High-ranking Prisoner

It's a long way off until former PM's imprisonment, but Israel Prison Service has already begun looking into how to deal with challenges waiting ahead.

Arrogance was Judge David Rozen's sin on Tuesday. From his high seat, he acted like a power-stricken person, who believes that nothing stands in his way. "Traitor," he lashed out at Ehud Olmert, "criminal." "Piggery," he said. I refuse to believe that a judge in the State of Israel is capable of saying such words.

Another judge, Zvi Berenson, once quoted Chazal, the Jewish sages of the Mishna and Talmud eras: "Who is a respectable person? One who respects mankind."

Accusing Olmert of treason is crossing a line. Judge Rozen stated that he had read the 19 letters written by heads of institutions and associations for the poor and Holocaust survivors in favor of the former prime minister who helped them. Rozen may have read the letters, but he shut his heart.

Retired Judge Hayuta Kochan, who sat on Channel 2's panel of commentators on Tuesday morning, sent a poisoned arrow towards defendant No. 8. Olmert, she stated, made a serious mistake by failing to bow his head to the court and act with the "proper humility." She may be right. But there is definitely a possibility that with all due respect to the verdict, defendant No. 8 believes that the honorable judge's ruling was wrong. Ehud Olmert stuck to his stance: I never offered and I never took a bribe from anyone.

It's hard, almost impossible these days, to voice a different opinion from the opinions heard in the media about Olmert's guilt, which have turned him into a demonic figure. And yet, the man was acquitted of serious charges by the Jerusalem District Court (and convicted of breach of trust). The former prime minister's critics are attacking the judges who acquitted him (a panel of three judges led by the court president) and denunciating them. As far as Olmert's critics are concerned, there are judges only in Tel Aviv. That is as disgraceful. Either you respect the judiciary as a whole, or you only accept the rulings of judges who work according to your "worldview."

And after all this, something should be said about our political system too: We must admit that in a country where a president is sitting in jail and a former prime minister is sent to join him, something is messed up. Something which requires us to take a deep look and try to deal with the question of how we reached such a situation. What is wrong with our system of government?

Those looking for comfort may find it in the fact that even after 66 years of independence, we are still in the stages of shaping the face of the state. And that's it.