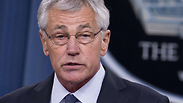 JEDDAH - Defense Secretary Chuck Hagel on Wednesday promised US allies in the Persian Gulf that negotiations to contain Iran's nuclear program will not weaken their security.

In remarks opening a conference with his Gulf counterparts, Hagel said Washington is hopeful of progress this week in the Iran deal-drafting talks in Vienna.

"As negotiations progress, I want to assure you of two things," Hagel told the Gulf Cooperation Council. "First, these negotiations will under no circumstances trade away regional security for concessions on Iran's nuclear program."

Related Stories

The Pentagon chief continued, "Second, while our strong preference is for a diplomatic solution, the United States will remain postured and prepared to ensure that Iran does not acquire a nuclear weapon - and that Iran abides by the terms of any potential agreement."

Even if Tehran backs out of the nuclear negotiations, Hagel said, "The United States remains committed to our Gulf partners' security." He said there are about 35,000 U.S. troops in the Gulf region.

After his meeting with the Gulf ministers, Hagel said they all agreed on the need to ensure that Iran's nuclear program is exclusively peaceful.

"While we noted that Iran's diplomatic engagement has been a positive development, we continue to share deep concerns about Iran's destabilizing activities throughout the region, including its sponsorship of terrorism, its support for the Assad regime in Syria and its efforts to undermine the stability in GCC member nations," Hagel said.

Hagel also addressed the ongoing civil war in Syria, describing it as a confluence of "violent extremism, fragile states and humanitarian emergencies."

"The United States remains committed to working with your governments toward a negotiated, political solution that ends the violence and leads to a representative and responsive government," he said.

After the meeting, Hagel said: "We pledged to deepen our cooperation in providing aid to the Syrian opposition. We agreed that our assistance must be complementary - and that it must be carefully directed to the moderate opposition."