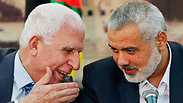 Haniyeh with PA official at signing of April unity deal
Photo: Reuters
A new Palestinian government will need the approval of the Hamas-dominated parliament, the Islamist movement's prime minister in Gaza, Ismail Haniyeh, said Wednesday.
Hamas signed a reconciliation deal last month with the Palestine Liberation Organization, which is dominated by its bitter rival Fatah, in a surprise move that aims to overcome a years-long intra-Palestinian split.
"Any government that does not obtain the confidence of the parliament will have no constitutional legality, and Fatah and Hamas have agreed on this," Haniyehsaid in a speech to Hamas MPs in Gaza.
"The legislative council (parliament) will also monitor the consensus government's work," he said.
Hamas has dominated the Palestinian parliament since winning a landslide victory in the last parliamentary election, held in 2006.
But the US and Europe have since backed the West Bank-based Palestinian Authority under president Mahmoud Abbas, who heads Fatah, and boycotted the Islamist movement.
Under the terms of the April 23 reconciliation deal, the two sides would work together to form an "independent government" of technocrats, to be headed by Abbas, that would pave the way for long-delayed elections.
Representatives from both Fatah and Hamas have met several times for talks on a final line-up for the government to end their division after Hamas expelled Fatah from Gaza in a week of deadly clashes in 2007.
The reconciliation agreement incensed Israel, putting the final nail in the coffin of faltering US-led peace talks between the Jewish state and Abbas's Palestinian Authority.
A senior Fatah official arrived in Gaza City on Tuesday for talks on forming a unity government.