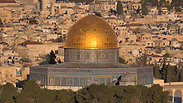 'The whole Temple Mount issue is something that most Jews simply prefer to ignore'
Photo: EPA
This past week, within a 24-hour period, I visited two of the most distinctly opposite places in Jerusalem that one can imagine: The Temple Mount and Yad Vashem.

While within one is located, according to Judaism, the holiest spot in the world, the literal meeting place between heaven and earth, the other is a museum dedicated to the six million victims of the Nazi beast.

Poll

Survey conducted ahead of Tisha B'Av shows 66% of Israeli public see Western Wall as Jewish people's holiest site, while only 29% give title to Temple Mount. About half of public believes Mount is under Waqf's sovereignty, nearly 60% want site divided between Jews and Muslims.

Moreover, while from the former we hope that one day God's light and wisdom will go forth to heal a fractured and troubled humanity, from the latter we merely hope to prevent future holocausts.

Finally, while millions of Jews and non-Jews – from Israeli high school students to visiting presidents and prime ministers – flock to Yad Vashem, hardly anyone, especially amongst Jews, ever pays a visit to the Temple Mount.

Although it's true that any Jew who wishes to visit the Temple Mount needs to be aware of a few halachic issues and restrictions, the fact is there are many rabbis today willing to give proper guidance in order to facilitate such a visit. Moreover, the rabbinical position that forbids all Jews from ascending to the Temple Mount is a strict opinion that is not shared by all rabbis.

Ironically, this current "forbidden mindset" didn't prevent Maimonides, one of the greatest codifiers ever of Jewish law, from visiting and praying on the Temple Mount.

The truth is that the whole Temple Mount issue, given the confusion regarding the so-called halachic ban together with the reality of nearly complete Islamic control of the site, is something that most Jews simply prefer to ignore.

Moreover, who wants to put themselves in the humiliating position of being removed from the Temple Mount simply for committing the unthinkable crime of saying a prayer or reciting a few verses from the Book of Psalms? Or who wants to experience the demeaning feeling of being closely followed and watched by members of the Jordanian Waqf, the non-Israeli entity that essentially controls the Temple Mount in the heart of Jerusalem?

Although it's true that Israeli policemen are also on the Temple Mount, from firsthand experience they appear to be much more sympathetic to their friends in the Waqf than to the Jewish visitors that they're helping to escort.

Of course for a Jew to have the pleasure of being subject to any of these uncomfortable situations, he must first receive police permission to enter the Temple Mount, something that should not be taken for granted. For instance, if a Jew is wearing a T-shirt or baseball hat with a picture of the Israeli flag, there's a good chance that such a "provocation" will cause the police to deny him access to the Temple Mount.

This is the current situation, no matter how preposterous it might sound. This being the case, how can we remain silent in the face of such injustice? Likewise and in spite of all of the above, how long can we expect to survive as a sovereign nation in our own land if we simply turn our backs on the place that represents the true center and heart of the Jewish people?

Although the Western Wall is nice, and we should be happy that we can freely visit and pray there, we need to understand that it is not the Temple Mount.

Finally, by avoiding this touchy issue we are essentially stifling an integral part of our national identity. If so, then what does this say about us as a people, or as a country, and what are the ramifications of this for our future?

Yoel Meltzer is a freelance writer living in Jerusalem. He can be contacted via http://yoelmeltzer.com .