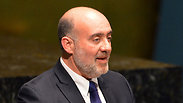 Israel's ambassador to the UN Ron Prosor
Photo: AFP
UNITED NATIONS - Israel has launched a campaign calling for the United Nations to recognize Judaism's holiest day, Yom Kippur, as an official holiday.

Israel's UN Ambassador Ron Prosor sent a letter to all UN member states saying there are three major monotheistic religions but only two - Christianity and Islam - are recognized by the UN calendar.

"Such discrimination at the UN must end," Prosor said in an excerpt of the letter sent to journalists Friday by Israel's UN Mission.

"In the days leading up to Yom Kippur, Jews throughout the world seek forgiveness and reconciliation," he said. "Jews fast, abstain from work, and spend the day in prayer and contemplation."

Prosor asked the 192 other ambassadors to join Israel's campaign by signing a letter urging the United Nations to recognize Yom Kippur.

"It is about time Jewish employees at the UN won't be obligated to work on Yom Kippur," he said.

There are currently 10 official UN holidays including the Christian holidays Christmas and Good Friday and the Muslim holidays Eid al-Fitr and Eid al-Adha, which were added after the UN General Assembly adopted a resolution in 1998. The six other holidays are major US holidays - New Year's Day, Presidents' Day, Memorial Day, Independence Day, Labor Day and Thanksgiving.

A vote by the UN General Assembly is likely needed to approve the holiday, during which buildings would be closed and no meetings held. Yom Kippur sometimes conflicts with the annual General Assembly of world leaders in September.

"On the one hand, the United Nations advances values of cooperation and engagement among nations, on the other hand, it is prioritizing one religion over the other," Prosor wrote. "It is about time Jewish employees at the UN won't be obligated to work on Yom Kippur."

Israel has had an often difficult relationship with the United Nations and is attacked regularly over its dealings with the Palestinians and the failure to reach a peace deal that would create an independent Palestinian state.

Reuters contributed to this report.