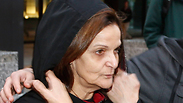 Rasmieh Yousef Odeh, responsible for 1969 bombing in Jerusalem
Photo: AP
A Chicago activist might plead guilty in Detroit to failing to tell US immigration officials about her conviction in a deadly bombing in Israel in 1969, her attorney said Saturday. If convicted, she may face deportation.

A court hearing is scheduled Wednesday for Rasmieh Yousef Odeh, associate director at the Arab American Action Network in Chicago.

"We are engaging in serious negotiations, which could lead to a guilty plea," defense lawyer William Swor told The Associated Press. "If she enters a guilty plea, she will likely have to leave the country."

Odeh's case has angered pro-Palestinian activists in the US who accuse the government of trying to silence dissent on Israel. Her appearance at the Detroit federal courthouse last fall drew sidewalk protesters who traveled from Illinois to chant criticism of the US Department of Homeland Security.

Odeh, who is in her 60s, entered the US from Jordan in 1995 and became a naturalized citizen in 2004. She is charged with not disclosing her past when she applied for citizenship in Detroit.

Odeh was convicted of an attack that killed two people at a Jerusalem market in 1969. An Israeli military court sentenced her to life in prison in 1970, but she was released 10 years later in a prisoner swap with the Popular Front for the Liberation of Palestine.

The government hasn't said how it learned about Odeh's record.

The indictment refers to her as Odeh, but she's commonly known as Rasmea Yousef in Chicago. Hatem Abudayyeh, head of the Arab American Action Network, called her an "icon" in the community after her arrest last year. She's been free on bail.

In 2013, Odeh received the Outstanding Community Leader award from the Chicago Cultural Alliance, a coalition of ethnic museums and cultural centers in the Chicago area.