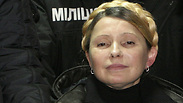 Yulia Tymoshenko
Photo: Reuters
Ukrainian presidential hopeful Yulia Tymoshenko has recently recruited help from one of Israel's most prominent political stratagests.

Tal Silberstein, well-known for handling the campaigns of Israeli politicians, like former prime minister Ehud Barak, joined Tymoshenko's campaign in the hopes of leading her to the top position in Ukrainian politics. He has since worked in a number of European countries.

Tymoshenko's bid for the presidency seems to be nearing a dead end, but Silberstein is reportedly offering her a new direction - one that is attracting heavy critisism - to vye for the premiership instead.

Ukraine today is considered the most contentious region in Europe after protests in Kiev turned into a revolution that forced the prime minister out of office. This in turn triggered oppositional violence in eastern Ukraine where many citizens wish to break from Kiev and join the Russian Federacy.

Related Stories

Tymoshenko was released from prison in the latter stages of protests in Kiev and was considered a popular politician among Ukraine's people, but lost some of that popularity upon her release from prison.

Now she contends for the presidency against billionaire Petro Poroshenko who is so far the clear favorite in the race.

Ukrainian media credits Silberstein with causing concrete change in Tymoshenko and her strategies. Until Silberstein was brought aboard the campaign, Tymoshenko was known for attacking her opponent, but now she has become more moderate in her approach, and some say she is expected to become prime minister under Poroshenko, should he win.

Polls currently show Poroshenko winning the presidency with 1/3 of the vote while Tymoshenko dropped to 6-8 percent, leading her to hire Silberstein and change strategy.