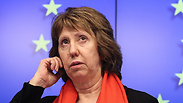 Catherine Ashton
Photo: EPA
BRUSSELS - As Iran and international negotiators work towards a July deadline to complete an accord with Tehran on its nuclear program, a practical issue may be on their minds: the looming changeover of the European Union's foreign policy chief.

Catherine Ashton, the British baroness who has held the EU's top foreign policy post for the past five years, may not be the critical decision-maker in the talks, but she has been the prime coordinator of the negotiations since 2010.

The role requires her to work with the United States, Russia, China, Britain, France and Germany to present a clear and united position, while trying to build trust with the Iranians to keep the sensitive talks trundling along.

Related Stories

Ultimately, it is Iran and Washington who will determine if a deal is done. But Ashton's shepherding of the process has won her accolades and helped silence some of her many detractors.

She may not be an international stateswoman in the making, but her upcoming departure could complicate diplomacy at a critical time, potentially exposing the talks to risks.

"Her departure will create a gap, even if temporarily," said Ali Vaez of the International Crisis Group, a think-tank. "Personal relations matter too, in fact enormously."

All sides are still hoping a deal can be finalized by July 20, potentially making history. If that's the case, Ashton would be able to see the diplomacy through - her mandate does not finish until the end of October.

But given the sensitivity of the talks, constant concerns raised by outside parties like Israel and deep divisions between the sides, delays are possible: a round of negotiations in Vienna last week made less headway than hoped.

A delay would mean a new EU foreign policy chief taking over, someone with less familiarity with the issues or rapport with the Iranians. Alternatively, although it is unlikely, it could result in the baton being handed to another, non-EU party, which might reset the clock from Iran's perspective.
'Common Touch'
Ashton, 58, a former nuclear campaigner, social worker and hospital administrator who was made a baroness for life by Britain's Labor party in 1999, had no foreign policy experience when she was unexpectedly named to her post in December 2009.

Despite those shortcomings and a difficult time early in her tenure as she battled to establish herself, she is said to have forged a close personal relationship with Iran's foreign minister, Mohammad Javad Zarif, her counterpart in the talks. Zarif occasionally addresses her as Cathy.

While it may be a small matter in an incredibly complex set of negotiations, Ashton's common touch - she has a northern English person's aversion to high ceremony - appears to have helped her engage with Zarif. It may not clinch a deal, but it allows the parties to stay engaged.

"At the root, these talks will be decided on national interest, not personality," said Cliff Kupchan, Middle East analyst at the Eurasia Group, a risk consultancy.

"(But) personalities matter and her departure would at least at the margins impair the atmosphere and momentum."

Ashton has presided over diplomacy with Iran during the most significant developments for years, including the signing of an interim deal last November under which Tehran agreed to scale back some of the most delicate aspects of its program in return for limited sanctions relief.

That deal followed a resumption of formal negotiations in early 2012, after the European Union and the United States cranked up sanctions because of mounting concerns that Iran may be seeking the capability to make an atom bomb. Iran denies it has any military intentions.
The Negotiators, The Experts
The key question is what sort of personality might replace Ashton when her mandate expires.

Nominations will only formally emerge in the coming weeks and months, and even then the candidate may only be decided at the last minute. Once named, the candidate must be vetted and approved in hearings before the European Parliament, and only then can begin to think about priorities. Delays on the European side could easily prompt the same from Tehran.

Depending on which country the new foreign policy comes from, who it is and what the state of play is with Russia by that time, it may be that Iran slips down the agenda. What's more, the new foreign policy chief may have a different manner and approach.

"Ashton was chosen because she wasn't going to be bullish in her foreign policy. She is the voice of consensus, soft-spoken," said Dina Esfandiary, a research associate at the International Institute for Strategic Studies.

"If there is someone more vocal, that could change the dynamics of the talks."

Among the names mentioned as possible successors are Sweden's foreign minister, Carl Bildt, and his Polish counterpart, Radoslaw Sikorski, both vocal on issues ranging from economic sanctions to trade and defense policy.

Since both have had to drive their countries' foreign policies, they are less accustomed to playing a shepherding role and more inclined to take the driving seat - a potentially disruptive change of attitude from the Iranian point of view, not to mention the US, Russian or Chinese perspective.

Ashton's departure could also mean her team of negotiators leaves, to be replaced by people chosen by her successor, complicating technical aspects of the negotiations.

Officials say it is not clear whether Helga Schmid, the EU's German-born top negotiator, would stay in her post after the changeover, despite having forged close ties with her Iranian counterparts since 2011.

And in a further element that could shape the future, Ashton's successor will to a large extent determine what sort of relationship the EU has with Iran if a nuclear deal is struck.

Companies from Europe and the United States will be eager to seize trade and investment opportunities in Iran as and when Western sanctions are lifted.

But at that stage the EU may also have to consider Iran's human rights record, a long-term bugbear that has not figured in the nuclear talks but could well become critical as future trade and investment ties are discussed.

"(Ashton) had the luxury of not having to think about that," said Daniel Keohane, an analyst with the FRIDE think tank.