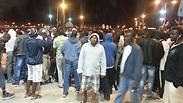 Asylum seekers protest at Holot
Photo: Anwar
Some 300 asylum seekers residing at the Holot "open-detention" facility demonstrated Tuesday night by refusing to return to their rooms.

The protesters claim that nine asylum seekers that were transferred to the facility Monday were forced to sleep outside for lack of available beds.

The Israel Prison Service firmly denied the allegations and said they had no intention of dispersing the crowd using force.

Bashir, an asylum seeker from Sudan who has spent the last month at Holot, said the protest would continue until a solution is found for the nine transfers. "Last night we saw they slept outside because there were not enough beds, we will not tolerate this and we will continue to protest."

The Israel Prison Service responded that the protesters were misrepresenting the situation.

"These are false allegations. All those who arrived on Monday to the facility were given a room and a bed for the night. The Holot facility has available spaces, but we do not have the ability to assign rooms to asylum seekers based on their request; that is the reason they are protesting."

The Israel Prison Service emphasized that the Holot facility had enough accommodation for all asylum seekers but that "unfortunately, this was not the first time false information was used to pressure the facility's management."

The IPS stressed that such methods "would not influence the professional decision-making processes of the Prison Service."