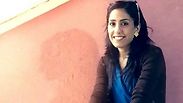 I never thought politics would follow me even in my field of studies, social work. Although as an Arab woman I have repeatedly experienced things related to politics in the State of Israel, this time my experience is completely different.

Sderot, which has suffered many Qassam rockets and sirens, and I am inside it, the Arab woman fighting together with all the people around me. If I had a head cover, I would be completely indigestible.

Arab Population

Op-ed: If we maintain our Arab identity and integrate into the State of Israel as proud citizens, we will create a better future for ourselves.

I have been living in Sderot for three years now, since I decided to study social work at the Sapir College. In these three years I have experienced quite a few difficulties, crises and complexities.

I heard offensive words, after residents heard me speak my mother tongue. When my phone rang in public, I was filled with fears: "What will happen to me now if I answer? What will they think about me and what will they feel?"

Although we hardly knew each other, I acknowledged the fact that I am living among many people who find it difficult to accept an Arab, and that I am living in a place where people live under the threat of Qassam rockets, and that the enemy is always Arab. When they heard me speaking Arabic, they gave me frightened looks, as if I had murdered someone.

The Color Red rocket alert was the first thing I got to know when I moved from the north to the south. The siren and the boom after the Qassam fall.

Compared to those moments, the daily routine in Sderot is calm. In spite of all the complexity, Sderot is an unusual place in my eyes, and in this place I was able to find my mental peace. I was exposed to something new and to an experience which was different from all my experiences so far.

My experiences were mostly related to politics because politics is a big part and exists everywhere in the State of Israel. It is particularly relevant to an Arab living in a multi-cultural state like Israel, a state where it seems that every sector is fighting for its rights, needs and resources. It seems that each person is eating the other in order to live as he pleases.

In the Israeli democracy the majority rules, many times without protecting minorities' rights. In this state I have experienced racism and discrimination, and I have seen hatred in the people who looked at me. On the other hand, I have also experienced love, compassion and acceptance of the other. I have learned that people are different not only in character, but also in their thoughts and emotions. I have learned that reality sometimes disappoints you and sometimes makes you happy. I have learned a lot.
Optimism is the key
The disappointments and frustration over the racism in the Israeli society, and my growing criticism towards politics over the years, motivated me to study social work. I thought that there would be no politics in this field, a field with humanity and empathy and far from stigmas, judgment and lack of understanding.

Unfortunately, I discovered that there is politics everywhere, even in social work. Thoughts about the current situation continued to haunt me. I realized that it was no coincidence that during my professional training a girl I am treating asked me, "Hanadi, are you Caucasian?" When I said I wasn't, she tried again: "Russian, Jewish, from France?" Finally, I told her that I was Arab. She shouted, "You're Arab? But the Arabs kill us."

It happened more than once. For the children of Sderot and the area, the Arab is the enemy. Me? The enemy?

This perception stems, in my opinion, from the brainwashing this girl was subject to from her parents, educators, religious leaders, the press, politicians and mainly the government leaders in Israel.

The difficulties I have experienced as an Arab in general and in Sderot in particular, have strengthened me and made me want to connect to the side which judges me according to my identity. The judgment and stigmas boosted my curiosity and determination to continue the way I am and as I have conducted myself so far, to continue studying and investigating in order to understand and change things, and not to let other people's attitude towards me discourage me.

This is an opportunity for me to get to know people who are different from me, who are afraid of the word "Arab." It's an opportunity for me to let them get to know "the Arabs" in a whole rather than superficial way, because there is good and bad everywhere, among both the Jews and the Arabs.

From now on I will not escape politics. I will turn it into something filled with all the values and traits I have learned in social work and what was instilled in me through my parents' education.

I believe in my strong spirit which has never been broken, with all the difficulties I have gone through in this country, and will not break this time either. I will do everything for people to understand that the world is not black and white.

The uncertainty of most people who come in contact with me, their fears and negative perceptions towards me, are what pushes me to cope with life. They are the tools through which I can do and change something in the future. They encourage me to advance and fight and not be afraid of anything.

The key to all closed doors and to my successes is optimism.

Hanadi Shaer is a resident of the village of Yafia and a social work student at the Sapir College.