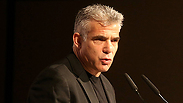 Finance Minister Yair Lapid
Photo: Nimrod Glickman
In a bid to calm the debate between the Finance Ministry and the Defense Ministry over the 2015 budget, Minister Yair Lapid said Friday that "it is important that together with the defense establishment and the IDF, we pull the dialogue between the two ministries out of their current mud-slinging."

The Finance Minister's remarks came after a senior General Staff source told Yedioth Ahronoth on Friday that the Finance Ministry is "turning the public against career soldiers".

Related stories:

Lapid stressed that the ministry fully supports the fighters "who protect our lives", adding that "they deserve not only what they currently receive, but much more, both in terms of equipment and in training." He further emphasized that the debate with the security establishment is over saving money in other areas of the defense budget.

"We all need to tone it down and remember that we are discussing Israel's security and its obligation to remain strong. Staying strong also means remaining strong budget-wise, in order to have enough funds left over for education, welfare and health."

A senior General Staff source was cited by Yedioth Ahronoth on Friday as saying: "The effect of the campaign is felt; the public is being incited against the career soldiers." The Finance Ministry said in response: "The equation is simple – additional funds to the security establishment will come at the expense of health and education."

On Monday, IDF Chief of Staff Lt.-Gen. Benny Gantz commented for the first time on the growing financial crisis faced by the Israeli defense establishment, and announced that in light of the budgetary woes, the IDF will halt all planned training for its reserve soldiers.

"As of now our plans for the reservists in the next year will not take place. Reservists will stop training in the next year to give precedence to the training of (regular) soldiers," Gantz said at a ceremony honoring reserve soldiers held at the Glilot base.

The IDF claims to be facing an unprecedented financial crisis, and as a result has canceled a number of training operations recently; but the claims have been questioned by the Finance Ministry.