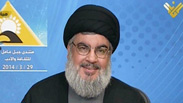 Hassan Nasrallah
Photo: AFP/Al-Manar
Marking the 14th anniversary of Israel's withdrawal from southern Lebanon, Hezbollah leader Hassan Nasrallah slammed Sunday what he called an increasing number of Israeli violations on the border, saying, "This will have to stop."

The speech was reportedly shown on massive screens at an assembly in Bint Jbeil, just a short distance from the Israeli border. Just hours before the assembly organized by Hezbollah, reports surfaced from Lebanon that aircraft from the Israeli Air Force had been seen in the air above Bin Jbeil, a town of some 20,000 residents.

Attending the event were the Speaker of the Lebanese Parliament Nabih Berri, Syria's ambassador to Lebanon, a representative from the Iranian embassy, and other politicians close to Hezbollah.

Related Stories

In his speech Nasrallah stressed that his organization's policy of resistance deters Israel. "The strategy of deterrence is the only one that can defend Lebanese land, the Lebanese people, governmental institutions, the resources, the water, the oil, the gas, and the future of the country and its honor."

Nasrallah told the assembly attendees that the group's operatives are, "active day and night to improve our deterrence capabilities, and this worries the Israeli enemy. There's no limit to progress on deterrence capabilities."

He added that the strategy is necessary to combat Israel because he said that the IDF is one of the strongest armies in the world. "In the past it was us who were afraid, but today those who are afraid are in Israel's territory. Today even the sound of water scares Israeli soldiers. Don't be afraid of the enemy."

Last April, in an unusual step, Nasrallah appeared in an interview by As-Safir, taking responsibility for the bombing at Har Dov on the border in March. He claimed the attack was part of the reaction to an attack attributed to Israel in February against a target connected to Hezbollah in Jinta, on the border between Lebanon and Syria.

"The Israelis got the message loud and clear," said Nasrallah in the interview.

In Sunday's speech Nasrallah addressed Israel's supposed border violations in Lebanon saying that at the moment the issue is being handled by the Lebanese government but threatened that, "if events on the border reach a level that demands involvement by the opposition, then we won't remain silent in the face of the insults that are suffered by members of the Lebanese nation."

Nasrallah's speech comes as Hezbollah operatives remain active in combat positions in Syria, aiding President Bashar Assad. Meanwhile, the organization continues to suffer attacks, mainly in Beirut, in response to their direct combat role in Syria.

Nasrallah claimed that, "There is cooperation between the two sides in the Golan (Israel and Syrian rebels), and Israel is providing logistical aid. There are targets in the Syrian army that Israel is attacking to support the opposition fighters in Syria. We are standing in front of a new border with Syria. This is a threat."