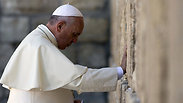 Pope Francis praying at the wailing wall during his visit
Photo: AFP
Pope Francis wrapped his trip to the Middle East on Monday with a departure ceremony at Ben Gurion International Airport. The pontiff visited Jordan, Israel, and the Palestinian territories during his three-day whirlwind tour of the Holy Land.
Francis visited the Kotel and Yad Vashem on Tuesday, making an unscheduled stop at a memorial for the victims of terror at the request of Netanyahu.
The impromptu visit to the monument appeared to be an attempt to appease his Israeli hosts following the surprise stop at the hulking concrete barrier, daubed with anti-Israeli graffiti, which separates Bethlehem and Jerusalem.
Earlier in the day, the Roman Catholic leader met with Prime Minister Benjamin Netanyahu and President Shimon Peres.
Francis praised Peres, a Nobel Peace Prize laureate, for his efforts to solve the conflict.
"You are known as a man of peace and a maker of peace, and I express my admiration and thankfulness for your attitude," the pope told Peres.
Urging both sides to work together to find a resolution, the pope expressed "hope pain of those afflicted by conflict in Mideast will soon be eased."