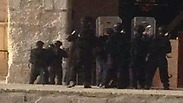 In wake of stone throwing in the Temple Mount, complex closed to visitors
Jerusalem Day was marred by nationalistic violence Wednesday, with two separate attacks taking place in the capital. Meanwhile, the Temple Mount complex has been closed to visitors after riots broke out.

Masked Palestinian youths attacked police officers with stones and then barricaded themselves inside the Al-Aqsa Mosque. One officers sustained light injuries.

According to the police, the stone throwing began with the site's opening in the morning hours, with Arab youths shouting out and heckling Israeli visitors, and masked youths throwing stones at the police.

A police force entered the compound and quelled the disorder, but afterwards a group of youths fled to the Al-Aqsa Mosque and began throwing rocks and firecrackers at security forces.

Police spokesman Micky Rosenfeld said "a small group of rioters" caused the disturbance on the hilltop compound known to Muslims as the Noble Sanctuary and to Jews as the Temple Mount.

Elsewhere, two young Jewish men were attacked in Jerusalem's Old City, they sustained light injuries and did not require medical attention. Police later arrested two Arab youths in connection to the event.

A young Arab man was also attacked, in the capital's Nablus Rd., he claims he was accosted by a group of Jewish youths. He was taken to a local hospital with light injuries. Police are searching for his attackers.

At the Damascus Gate at Jerusalem's Old City, some 100 Arab youths confronted participants in a parade celebrating the city's reunification. When the youths ignored police calls to disperse, police used crowd dispersal means to remove them, and arrested three of them.

Some 30 Arab women also gathered near the Damacus Gate, trying to disrupt the parade. They were removed by the police.
Temple Mount tensions
The skirmishes came as Israel marks Jerusalem Day, which commemorates the anniversary of Israel's capture of East Jerusalem in the 1967 Mideast war.

Local tensions were already running high because of the day, with Muslims responding to an event organized by right wing organizations which called on Jews to arrive at the Temple Mount to pray. Arabs plastered a response on the events poster, calling it "the Zionists attempt to hold ceremonies on Al-Aqsa."

Prayer in the compound permitted only for Muslims, and in the past unauthorized attempts by Jews to enter have led to riots and even diplomatic issues with neighboring Jordan and Muslim religious officials.

Rosenfeld says police have fanned out in anticipation of the annual Israeli march through Jerusalem later on Wednesday, which will pass by a Palestinian area in the Old City.

In the past, the marchers have faced protests by Palestinians.

The Associated Press contributed to this report