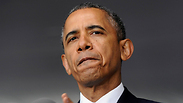 Obama speaking at West Point
Photo: AP
WEST POINT - US President Barack Obama declared Wednesday that the US remains the world's most indispensable nation, even after a "long season of war," but argued for restraint before embarking on more military adventures.

Obama's speech signaled a concerted effort by the White House to push back against critics who contend that the president's approach to global problems has been too cautious and has emboldened adversaries in Syria, Russia and China. It's a criticism that deeply frustrates the president and his advisers, who say Obama's efforts to keep the US out of more military conflicts are in line with the views of the American public.

Standing before the newest class of officers graduating from the US Military Academy, Obama said, "I would betray my duty to you, and to the country we love, if I sent you into harm's way simply because I saw a problem somewhere in the world that needed fixing, or because I was worried about critics who think military intervention is the only way for America to avoid looking weak."

Related stories:

Even as the US emerges from the two wars that followed the September 11, 2001, attacks, Obama said terrorism remains the most direct threat to American security. But he argued that as the threat has shifted from a centralized al-Qaeda to an array of affiliates, the American response must change too.

Rather than launching large-scale military efforts, Obama called for partnering with countries where terrorist networks seek a foothold. That effort includes a new $5 billion fund to help countries fight terrorism and to expand funding for Defense Department intelligence, surveillance, reconnaissance, special operations and other activities.
A counterterrorism challenge
Obama cast the bloody civil war in Syria as more of counterterrorism challenge than a humanitarian crisis. He defended his decision to keep the US military out of the conflict but said he would seek to increase support for the Syrian opposition, as well as neighboring countries including Jordan, Lebanon, Turkey and Iraq that have faced an influx of refugees and fear the spread of terrorism.

"In helping those who fight for the right of all Syrians to choose their own future, we also push back against the growing number of extremists who find safe haven in the chaos," Obama said.

One plan being considered by the White House is a new project to train and equip members of the Free Syrian Army on tactics, including counterterrorism.

The crisis in Syria continues to be among the most vexing problems facing the White House. Even as Obama contends that an agreement to strip Syria of its chemical weapons was a success, the deal has done nothing to end the bloody civil war, which is now in its fourth year and which, according to activists, has left more than 160,000 people dead.

Obama is considering sending a limited number of American troops to Jordan to be part of a regional training mission that would instruct carefully screened members of the Free Syrian Army on tactics, including counterterrorism operations, the officials said. Obama has not given final approval and there still were internal discussion about the merits and potential risks.

The State Department, Pentagon and US intelligence agencies, along with many in Congress who back the move, have concluded Syrian President Bashar Assad will not budge without a change in the military situation on the ground, according to the officials.

At the same time, there are growing fears about the threat from al-Qaeda-linked and -inspired extremists fighting in Syria, the officials said.

The Senate Armed Services Committee last week passed a defense bill that authorizes the Defense Department to provide training and equipment elements of the Syrian opposition that have been screened.

The US has covert support operations in place for the Syrian opposition, and it is not yet clear how the new program would work. The United States has spent $287 million so far in nonlethal aid on the civil war, now in its fourth year.

Rebel commanders for three years have asked the US for lethal assistance as they've seen gains wiped out one after another. The US has been reluctant to move to that kind of aid for fear weapons could end up in the hands of extremist rebels who might then turn on neighboring Israel or against US interests.

The proposed mission would be coordinated by the US but involve many of the regional players active in assisting the rebels, including Turkey, Jordan, Saudi Arabia, Kuwait and the United Arab Emirates, the officials said.
The end of the Iraq and Afghan wars
The president's speech came one day after he outlined plans to wind down America's lengthy war in Afghanistan by the end of 2016. The blueprint calls for keeping 9,800 troops in Afghanistan for training and counterterrorism even after combat missions end later this year, but then withdraw them within two years.

The drawdown plan is central to Obama's long-standing pledge to bring to a close both the Afghan conflict and the Iraq war, which ended in late 2011. He was greeted by cheers from the graduating cadets when he noted that they had the distinction of being "the first class to graduate since 9/11 who may not be sent into combat in Iraq or Afghanistan."

Even as he heralded the end of those two wars, Obama said the US would continue to use military force on its own "when our core interests demand it - when our people are threatened, when our livelihood is at stake, or when the security of our allies is in danger." He also continued to defend his use of drone strikes in places like Yemen and Somalia but called for increased transparency about the program that has long been shrouded in secrecy.

Obama's efforts to pull the US out of the lengthy and expensive conflicts in Iraq and Afghanistan have largely defined his foreign policy for much of his presidency. But he's at times struggled to articulate how his response to a new set of challenges in places like Syria, Ukraine and Iran fit into an overarching foreign policy philosophy.

That's left Obama open to intense criticism from opponents who argue that he has squandered America's global leadership and lacks the credible threat of action that can stop international foes.
Real chance for Iran deal
On Iran, the president said he believed that "for the first time in a decade, we have a very real chance of achieving a breakthrough agreement" with Tehran, that would curb its efforts of reaching nuclear bomb production capabilities.
Obama believes that an agreement reached through diplomacy would be "more effective and durable than what would be achieved through the use of force."
But, despite his optimism, the president stressed that "the odds of success are still long, and we reserve all options to prevent Iran from obtaining a nuclear weapon."
Secretary of State John Kerry previewed the $5 billion anti-terrorism fund during an interview Wednesday on "CBS This Morning." Kerry said Obama's plan to withdraw US forces from Afghanistan will allow the US to divert resources to the anti-terrorism fight in other parts of the world.
The shift in US foreign policy will reflect a "rapidly changing, more complex world where terrorism is the principal challenge," Kerry said.