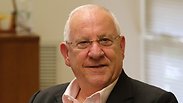 Reuven Rivlin
Photo: Gil Yohanan
Prime Minister Benjamin Netanyahu on Wedneaday announced his endorsement of Likud MK Reuven Rivlin for president, despite attempts in the last few weeks to stop his political rival of being elected.

After meeting with several candidates – among them David Levi and Elie Wiesel – and failing to convince them to run, as well as to rally enough support for them – Netanyahu had no choice but to admit defeat and join many others in the Likud, as well as Economy Minister Naftali Bennett, in backing Rivlin.

The prime minister's endorsement, however, was bittersweet. "We went through a lot in our lives, good days and days that were less so, and I hope we have better days in the future," Netanyahu told Rivlin a day after the latter submitted his candidacy to Knesset Speaker Yuli Edelstein.

Related stories:

"I was waiting for the final list of candidates and as the prime minister and Likud chairman, I back your candidacy," he said.

Netanyahu called Rivlin personally, and not through his secretary, while the presidential candidate was in the midst of meetings in his office.

The phone call was short and to the point, and Rivlin thanked Netanyahu for his endorsement. But sources close to Rivlin expressed concern that the prime minister's backing might actually be damaging to Rivlin's campaign.

"Netanyahu's acidic message does not change one fact: Rivlin will not forgive him for what he did and now it is left to see how Ruby, if elected, will take his revenge on the Netanyahu family," senior officials said, using Rivlin's nickname.

"The prime minister's support came only after he realized his party members and the people want Ruby as president," Likud officials said. "Senior MKs from all parties have publicly backed Ruby despite the prime minister's efforts to replace him."

Netanyahu's endorsement of Rivlin came several hours after that of Bayit Yehudi leader Naftali Bennett.

"Ruby is the natural candidate for the president of the state of Israel," Bennett wrote on his Facebook page, adding that he will recommend other MKs in his party to back Rivlin in the June 10 elections.

When asked about Netanyahu's endorsement of Rivlin, Bennett said he thought "this support was blessed and natural."

In his message, Bennett wrote: "They say a man is measured by three things: by his cup, by his pocket, and by his anger – Ruby Rivlin was never drunk with power. Even when he served in important positions, he worked for minorities and for the weak. In his pocket – his pleasant modesty, and his willingness to do dull work at the Knesset after he left the Speaker's chair made me respect him greatly. In his anger – even after losing the last presidential elections, he acted with grace and humility. Losing is not easy for anyone."

Foreign Minister Avigdor Lieberman, however, was not happy with Netanyahu's endorsement of Rivlin.

Sources close to the Yisrael Beiteinu leader said the prime minister did not update his senior political partner before announcing his support of Rivlin.

According to the sources, in the many meetings Netanyahu held on the race for president, he mentioned every option except for Rivlin.

"The foreign minister found out about the change in the prime minister's position from the press, so from now on Lieberman feels he and his party are free to make any decision about the race for the presidency," the sources said.

Lieberman and his party are now expected to back former Knesset speaker Dalia Itzik.

Likud Minister Gilad Erdan also endorsed Rivlin, but unlike the prime minister, he encouraged others to back Rivlin as well. "Ruby Rivlin, the man of Jerusalem, represents national and democratic values. He is the most worthy and fitting candidate to serve as Israel's president and I support his candidacy," Erdan said.

The list of presidential candidates, in addition to Rivlin adn Itzik, also includes MK Benjamin Ben-Eliezer (Labor), MK Meir Sheetrit (Hatnua), former Supreme Court justice Dalia Dorner and Nobel Laureate Professor Dan Shechtman.

Knesset Speaker Yuli Edelstein received the final list of candidates Wednesday morning.

Noam (Dabul) Dvir contributed to this report.