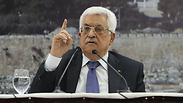 Palestinian President Mahmoud Abbas
Photo: Gil Yohanan
Palestinian Authority President Mahmoud Abbas met Wednesday with some 200 Israeli peace activists at the Muqata compound in Ramallah, days ahead of the announcement of the formation of the Hamas-Fatah unity government.

During the meeting, Abbas reportedly indicated that the new government will not be involved in the peace process with Israel or in political issues that relate to Israel.

"We are working to achieve reconciliation between the West Bank and Gaza. There are two ways to do this. One of them is establishing a government of technocrats that bear no connection to Hamas and Fatah. We held discussions on potential members and anyone who had anything to do with Hamas or Fatah was left out. The government will be announced in the coming days. The second way is elections," the PA president said.

Abbas explained that the elections in the Palestinian Authority will be democratic, similar to elections in Israel. He gave as an example the 1977 political upheaval in Israel, when the right ousted the left from power.

The Palestinians have accepted every government that won the elections in Israel, he said, and not unlike that, Palestinians will also have free elections, in which whoever wins, wins.

During the meeting, the Chairman of the Palestinian Authority stressed that the only way Palestinians and Israelis can reach a peace agreement is through negotiations. He emphasized the importance of holding meeting with Israeli officials, and said: "We are neighbors, but we don't know each other, so it is important to continue these meetings."

Abbas also reiterated comments he made late April about the Holocaust, in which he termed it the most heinous crime in modern human history. Abbas stressed to the attendees that the Palestinian leadership is not against Judaism.
Palestinians ready for talks
The PA president said that Fatah would continue reconciliation efforts with Hamas, but that the hands of the Palestinian leadership are extended for peace negotiations with Israel.

Commenting on the Geneva Accord and the initiative's proposed agreement, Abbas said that the Palestinians would be willing to accept any agreement that serves the interests of both sides.

Abbas also awarded a certificate of merit to Oslo architect Ron Pundak, who died of cancer last month.

Azzam Al-Ahmad, the Fatah official in charge of the reconciliation said Tuesday that that Abbas would announce the unity government as early as Thursday. Hamas officials announced that they would agree to maintain Palestinian Authority Prime Minister Rami Hamdallah as the head of the unity government.