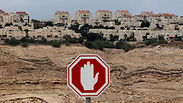 Right-wing MKs called on the government Wednesday to annex about 90 Jewish settlements built on West Bank land, with one of them saying it was retaliation for the collapse of peace talks with the Palestinians a month ago.

While Israel has built dozens of enclaves since capturing the land in the 1967 Six Days, it has not applied its law to the territory other than near East Jerusalem, which it annexed as part of its capital in a move never recognized internationally.

Prime Minister Benjamin Netanyahu's government said it does not support the legislation the right wingers introduced at the Knesset on Wednesday, but some cabinet members have urged such a step, blaming the Palestinians for the collapse of a nine-month round of US-brokered negotiations.

Related stories:

Most Western countries and the United Nations regard settlements built on land Israel captured in 1967 as illegal and an obstacle to peace.

Palestinians say the enclaves deprive them of land for a state they seek alongside Israel and where they have often lived for generations. Netanyahu's political allies view the enclaves though as a biblical birthright.

The legislation, which has no date set for a vote, seeks to annex enclaves Israel had hinted it may give up for peace, as well as four settlement blocs it seeks to keep under any deal.

The settlements envisaged for annexation total roughly 90, and are located in so-called Area C, a swathe of West Bank land under full Israeli control since the 1993 Oslo Accords.

Some 300,000 Palestinians and 350,000 settlers live in this area, out of a total of 2.5 million Palestinians living in the West Bank, mostly in areas where Palestinians have a measure of self-rule under that agreement of 21 years ago.

Orit Struck, a lawmaker with the far-right Bayit Yehudi party who co-chairs the Knesset's settler lobby, said "unilateral steps are called for" after the Palestinians took steps to form a unity government with Hamas Islamists, sworn enemies of Israel.

Israel suspended the already faltering talks as a result.

Struck, a settler herself, told Israel Radio that Israel ought to annex most of the West Bank "but we understand it must be a gradual process" and that, for now, Israel should apply its law to areas where most Israelis in the West Bank live.

Justice Minister Tzipi Livni, Israel's peace negotiator, told a business conference she opposed applying Israeli law to the settlements. "This idea of annexation won't happen for as long as I'm a part of Israel's government," she said.

Ofir Akounis, a deputy cabinet minister, told parliament in a debate held marking the anniversary of the 1967 Yom Kippur War, the government's policy was "not to support at this moment the imposition of (Israeli) sovereignty on Judea and Samaria", using biblical names for the West Bank.

Yariv Levin, coalition whip in Netanyahu's right-wing Likud party, and sponsor of the bill, said on his website he had submitted the legislation because "these regions of settlement are inextricable parts of historic Israel".