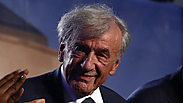 Prime Minister Benjamin Netanyahu had tried to convince Nobel laureate and Holocaust survivor Elie Wiesel to be a candidate in the race for president, media said on Friday.
Israeli media began reporting Netanyahu's last-minute attempt on Tuesday, when candidates had to present 10 MKs' signatures to be eligible for the position.
Related stories:
Wiesel, who lives in New York, told Yedioth Ahronoth's Nahum Barnea on Friday that Netanyahu had called him three times and then tried to pressure him through mutual friends, but the 86-year-old Romanian-born Nobel Peace Prize winner refused.
"Why should I be a president?" Wiesel told Yedioth, the newspaper for which he had worked as a correspondent. "It's not for me."
Netanyahu's efforts to draw the Jewish-American writer and political activist who does not hold Israeli citizenship into the presidency race were reportedly part of his attempts to prevent the election of Reuven Rivlin of his own Likud party as president.
Netanyahu's office refused to comment on the report.
On Wednesday, Netanyahu – who had previously also considered legislation to postpone the vote or cancel the institution of presidency – informed Rivlin of his support, explaining he had waited to see the final list of candidates.
"As prime minister and chairman of the Likud, I support you," Netanyahu told Rivlin over the phone, according to the premier's office.
President Shimon Peres will step down at the end of July, just before his 91st birthday, following a political career spanning nearly seven decades.
In Israel, the post of president is largely ceremonial and executive power rests with the prime minister.
A former supreme court justice, Nobel chemistry laureate and three other lawmakers will be competing with Rivlin, considered a favourite in recent polls, in the June 10 parliamentary vote.