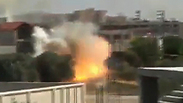 WASHINGTON - The US State Department on Friday confirmed that an American citizen had carried out a suicide bombing in Syria.

"The American citizen involved in the suicide bombing in Syria is believed to be Moner Mohammad Abu-Salha," State Department spokeswoman Jen Psaki said in a statement.

The New York Times, which first reported the name of the suicide bomber, said he grew up in Florida and traveled to Syria last year.

Related Stories

A US security official said US agencies were aware before the suicide bombing that the American had traveled to Syria to join militants. The official declined to give further details.

The official said that unlike some other foreign fighters in Syria, the American suicide bomber was not known to have posted messages on Twitter or other social media websites.

The bomber, who used the nom de guerre Abu Hurayra al-Amriki, carried out one of four suicide bombings on May 25 in Syria's Idlib province on behalf of Jabhat al-Nusra, al Qaeda's affiliate fighting to oust the government of President Bashar al-Assad.

Meanwhile, sirens blared across several towns in Israel's Golan region early Saturday morning - assumed by officials to be a result of battles in Syria near the Israeli border. The IDF immediately began investigations to determine if any rockets fell in Israeli territory.

Ynet readers reported hearing several explosions. The Golan Regional Council reported that after a short while they were told it was safe to return to normal activities.

Reuters contributed to this report.