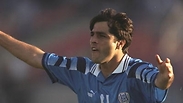 The team manager, Eli Ohana
Photo: Gettyimages
Nearly two deacdes after the historical entry of the Israel national under-18 soccer team to UEFA Euro U-21s, Eli Ohana's team managed to recreate the famous deed, but this time it's the first achievement of an Israeli youth team in the under-19 new edition.
The championship is going to take place in Hungary on July 19 and eight teams will participate in it, other than Israel and the hosting team. Ukraine and Bulgaria also made it to the championship and four more teams will be set in the next ten days. The first six teams in the European Championship would make it to FIFA U-20 World Cup.
After a series of difficult games, the Israeli team needed a victory and the game against Georgia gave them the needed chance. Israel won 0:1 and entered the championship. Ohana hasn't seemed so excited in years; he jumped for joy with the players while holding the Israeli flag.
Even before the game the team players got really excited as UEFA President Michel Platini, entered the dressing room, congratulated them and shook each player's hand.
The Israeli U-19 team members are: Gal Dean; Muhammad Abu Hija; Omar Danino; Ahed Habashi; Amer Msaroh; Dor Peretz; Eden Shamir; Michael Ohana; Ramzi Safouri (90, David Keltjens); Dor Hugi (Sagi Dror); Sean Weissman (65 Sagiv Yehezkel).
'We are closing the gap with Europe'
"Georgia is an excellent team, but the minute we scored the goal I knew no one could take away our victory. Today we took few steps closer to minimize the gap with our Europeans rivals, and won a top team due to the our players' big heart and soul, as well as their abilities on the field. Though we knew that only this victory would give us the entrance ticket to the European championship, we kept our composure and believed that our team can pull this off," said Ohana.
"This is the first time I am experiencing such a thrilling moment. I have had my share of victories and achievements, but as a coach this is the highlight. The players deserve compliments for their great investment. We worked really hard to get inside the European Championship and today I feel tremendous satisfaction – we brought great respect to the Israeli soccer," Ohana added.
The goal scorer, Sagiv Yehezkel said "I am happy I was at the right place at the right time, but I can't take all the credit, the entire team had an important part in this achievement."