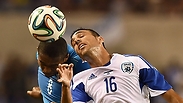 Omer Damari and Gil Vermouth scored in the second half to help Israel beat World Cup-bound Honduras 4-2 on Sunday in an international friendly.

Honduras also lost 2-0 to Turkey on Thursday in Washington.

"I thought there were a lot of individual errors, and the other team attacked well," Honduras coach Luis Fernando Suarez said through a translator. "The second half we risked a lot more, and we were trying for the draw. I saw this coming. We had a lot of subs and changes. I thought the team had some miscommunication and it didn't work well."

Soccer

The Israeli youth team wins a game against Georgia which lands it a ticket to the European championship - for first time in 17 years.

Eran Zahavi put Israel ahead in the 33rd minute before Honduras equalized early in the second half with a Roger Espinoza goal.

"Second half we started again very bad, and they had the amazing goal by Espinoza," Israel coach Eli Guttman said. "Then we came back and we didn't control the ball like we did in the first half, but we were very dangerous. I thought we deserved the win."

Israel regained the lead in the 52nd minute thanks to an own goal as Tal Ben Haim's shot from the left box went in off Honduras' Maynor Figueroa.

"I think that our midfield really controlled the field," Guttman said. "The defense line of Honduras was very deep, and we managed to make penetration from the second line. Very, very smart movement. The numbers extended."

Damari added to the lead in the 60th minute when Vermouth had a shot bounce off the near post to the middle of the box where Damari gathered it, turned and scored.

"I want to tell the fans to please believe in the players," Suarez said. "These are preparation games. We want to make the country proud, so please do not lose faith in us. We haven't lost anything yet. This is just a game to put the players on trial and see how they are doing."

Vermouth made it 4-1 in the 75th minute and Carlo Costly scored in the 83rd minute for Honduras, heading in a cross from Espinoza.