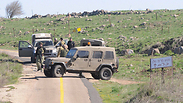 Mortar lands in Golan Heights
Photo: Avihu Shapira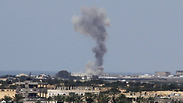 IAF attacks in Gaza
Photo: AFP
After several weeks of relative peace terrorists attacked Israel on its northern and southern fronts.

In the north, several mortars were fired at Israeli targets early this morning, with a mortar landing near an IDF outpost in Mt. Hermon region.

The IDF responded with artillery fire aimed at the source of the mortar fire. No injuries or damage were registered on the Israeli side.

An initial investigation revealed that at roughly 5 am a mortar landed only a few hundred meters from the outpost. Heavy fog was felt in the area, hindering visibility, and once it cleared, the IDF began searching the area to find the shell.

The IDF said that "it reserves the right to respond in any way and any time to any and all attacks on Israel to protect Israeli's residents."

The last time such an incident occurred, an investigation revealed it was not a targeted attack on Israel, but rather stray shell from Syrian infighting, which at times rages a few hundred meters from the border with Israel on the Golan.

In the south IAF aircraft targeted two terror sites in the central and southern Gaza Strip in retaliation to two rocket attacks against Israel in the last two days. Direct hits were confirmed.

According to IDF, the attack was a response to rocket fire at the Israeli territory. Sunday night Color Red siren was sounded at the Sha'ar HaNegev Regional Council.

Lt. Col. Peter Lerner, IDF Spokesman said after the attacks: "This morning's IDF actions are a direct response to Gaza terrorist aggression against the citizens of southern Israel. The unlawful Gaza rocket attacks, meant to terrorize, maim and kill Israelis will not be allowed to become routine.

We will fulfill our obligation to protect Israel and seek out and destroy the capabilities of those who wish to attack us".

The last time the IAF attacked terror sites in Gaza was in April, when it again responded to rocket fire by Gazan terrorists.

Aryeh Savir from the Tazpit News Agency contributed to this report, as did Ynet's Yoav Zitun.