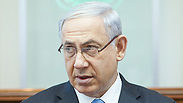 Netanyahu: Hamas or peace, PA and world must choose
Photo: Emil Salman
Prime Minister Netnayahu said Tuesday he is "deeply troubled" by the United States' decision to maintain relations with the new Palestinian unity government, urging Washington to tell the Palestinian president that his alliance with the Hamas militant group is unacceptable.

The blunt language used by Netanyahu reflected the government's disappointment and frustration over the international community's embrace of Palestinian President Mahmoud Abbas' new unity government.

Netanyahu has urged the world to shun the government because it is backed by Hamas, but late Tuesday, both the US and European Union said they would give Abbas a chance.

"I'm deeply troubled by the announcement that the United States will work with the Palestinian government backed by Hamas," Netanyahu told the Associated Press, saying the group has murdered "countless innocent civilians."

"All those who genuinely seek peace must reject President Abbas' embrace of Hamas, and most especially, I think the United States must make it absolutely clear to the Palestinian president that his pact with Hamas, a terrorist organization that seeks Israel's liquidation, is simply unacceptable," he said.

Israel and the West have branded Hamas a terrorist group. But Israel's allies in Washington and Europe have said they will maintain ties to the new government -- and continue sending hundreds of millions of dollars in aid - as long as it renounces violence and recognizes Israel's right to exist.

Abbas says the new Cabinet is committed to these principles. It is made up of apolitical technocrats who have no ties to Hamas.

Hamas, which remains sworn to Israel's destruction, has agreed to support the government from the outside.

Abbas' Fatah movement and Hamas formed the new government Tuesday in a major step toward ending a seven-year rift that left the Palestinians divided between two governments. Hamas seized control of the Gaza Strip from Abbas' forces in June 2007, leaving him only in control of autonomous areas of the West Bank. The division is considered a major obstacle to any future peace agreement.

Netanyahu's comments were the latest salvo in a competition between Israel and the Palestinians to win over international opinion following the collapse of Mideast peace talks in late April. Each side has been eager to portray the other as the intransigent party that led to the failure.

Abbas' prime minister, Rami Hamdallah, told reporters Tuesday that the government is committed to all agreements previously reached with Israel and would continue the president's "programs of peace," aimed at establishing an independent Palestinian state alongside Israel.

"We call on the international community to immediately recognize the government and continue to support the Palestinian political leadership efforts to enable the government to face all political challenges, especially the Israeli policies that hinder the political and economic stability in the region," Hamdallah said.