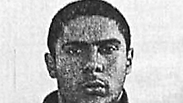 Dangerous. Nemmouche.
Photo: AFP
PARIS - The French national suspected of having shot three people dead in Brussels' Jewish Museum last month has refused extradition from France to Belgium, prosecutors and his lawyer said on Wednesday.

Mehdi Nemmouche, 29, has been in police custody since his arrest on Friday in the southern city of Marseille.

Prosecutors say the repeat-offender, who they say spent most of 2013 fighting in Syria with Islamist rebels, is being held under anti-terror laws on suspicion of murder, attempted murder and possession of weapons in relation to the May 24 attack.

Related stories:

Prosecutors said that during an audience before a court in Versailles outside Paris, Nemmouche expressed his refusal to be extradited, when presented with a European arrest warrant.

Nemmouche's lawyer, Apolin Pepiezep, told iTele Television his client preferred to be judged in France.

"We can't guarantee that my client would be judged better in Belgium than in France," Pepiezep said.

Pepiezep said Nemmouche had stolen the Kalashnikov and pistol he had in his possession when he was arrested, from a car in Belgium. The weapons were of the same type as those used in the killings.

"Nothing today proves that Mehdi Nemmouche is the culprit," he said.

The suspect has another court appearance on Thursday. If he refuses extradition again, he can appeal the prosecutor's demand to a higher court, but this would likely only delay rather than block his transfer to Brussels, legal sources said.

Nemmouche was arrested at the Marseille bus station last Friday with a Kalashnikov, a pistol and ammunition among his possessions, six days after the killings that also left one person gravely injured.

The EU-wide system of arrest warrants, in effect since 2004, is designed to ensure faster and simpler extraditions. The European Commission says an extradition within EU member states takes on average 48 days if the suspect does not agree to it.

An Israeli couple and a French woman were killed in the attack in the Jewish Museum in the Belgian capital by a man who opened fire with a Kalashnikov.

When arrested by chance by customs agents at a Marseille bus terminal, Nemmouche was carrying a Kalashnikov rifle, another gun and ammunition similar to that used in the shooting, prosecutors said.

Besides the weapons, the agents found a sheet scrawled with the name of an extremist group called Islamic State of Iraq and the Levant and a video displaying the weapons in the shootings.

The suspect refused to answer investigators' questions during the five days of his initial detention, his lawyer said, adding that he was "calm" at the hearing.

Nemmouche, who spent seven years in French jails in five different sentences, traveled to Syria after his release and spent about a year there, apparently joining an extremist group fighting to topple President Bashar Assad, the French prosecutor has said. He had turned to a radical form of Islam whilst in prison, the prosecutor said.

The Associated Press and Reuters contributed to this report.