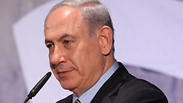 Benjamin Netanyahu
Photo: Motti Kimchi
Prime Minister Benjamin Netanyahu lashed out again Sunday at the new Palestinian unity government, saying that those who had hoped the move would have a moderating effect on Hamas were wrong.

"Over the weekend, the leaders of Hamas reiterated their intention to destroy the State of Israel," the prime minister said at the start of the weekly cabinet meeting. "Whoever hoped that the Palestinian unity between Fatah and Hamas would moderate Hamas is mistaken."

Netanyahu was apparently referring to comments made by Hamas leader Ismail Haniyeh on Thursday. According to a post on Netanyahu's Facebook page, Haniyeh said that, "Hamas will continue to the armed resistance, whether or not we are in power."

Rival Palestinians factions Fatah, led by President Mahmoud Abbas, and Hamas signed a reconciliation agreement in April, ostensibly ending years of bitter and often violent internecine. As part of the agreement, a new government was sworn in last week, a mvoe to which Israel responded furiously. The international community, however, has signalled that it is willing to work with the new government, despite its backing by Hamas.

Related Stories

Netanyahu warned Sunday that rather than Hamas becoming more moderate as a result of the agreement, it was instead increasing its power in the West Bank, long ruled by Fatah.

"The signs are being seen more and more that the complete opposite is taking place," Netanyahu said. "Hamas is increasing its control in the Palestinian Authority areas in Judea and Samaria."

"International pressure must be applied on Abu Mazen (Palestinian President Mahmoud Abbas of Fatah) to dissolve the partnership with Hamas. This touches on the roots of the conflict and the roots of a solution in which peace is achieved between us and the Palestinians," he said.

Netanyahu also suggested that Abbas would be held personally responsible for any future violence emanating from Gaza or the West Bank.

"Abu Mazen promised to uphold all of his previous commitments, and the first of these is honoring the commitment to demilitarize the areas under the control of the Palestinian government, including of course, the Gaza Strip," he said.

The prime minister also welcomed a recent announcement by the Australian government that word "occupied" would be dropped when discussing East Jerusalem.

"I certainly appreciate this stand by the Australian government," he said. "To say this sharply and with such clarity and, I would say, courage, is refreshing given the chorus of hypocrisy and ignorance, ignorance not only of ancient history, but of recent and current history."

The announcement came on Thursday from George Brandis, the current Attorney General of Australia during a fiery debate in the Australian legislature regarding the legality of Israel's settlements.

"The description of East Jerusalem as 'occupied' East Jerusalem is a term freighted with pejorative implications which is neither appropriate nor useful," Brandis reportedly said.