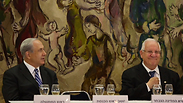 Rivlin and Netanyahu
Photo: Gil Yochanon
Prime Minister Benjamin Netanyahu's worst nightmare became reality on Tuesday when his hated faction rival Reuven (Rubi) Rivlin was elected to be Israel's 10th president. Netanyahu pulled out all the stops to avoid a Rivlin presidency, including attempting to do away with the position all together and offering the job to Nobel Prize winner Elie Wiesel who doesn't even have Israeli citizenship.

Netanyahu's worst fear would have been an axis formed by Rivlin and Interior Minister Gideon Sa'ar that could have mustered enough political strength to replace the prime minister. Sa'ar, a main architect of Rivlin's victory on Tuesday, will now be the front-man in the Likud party.

Along with MK Haim Katz, Sa'ar provided Rivlin with steady behind-the-scenes political support in the elections acting as the head of his campaign. When Netanyahu pushed to cave the Presidency erased from Israeli policy to prevent Rivlin from winning the post, it was Sa'ar who thwarted the initiative.

Related Stories

At the moment, whispers are running through the political crowd that Sa'ar could stand as Netanyahu's eventual successor as prime minister. Since the president holds the power to pick who will have the chance to build a coalition during elections (considering of course that no party wins a majority of Knesset seats), the close connection between Rivlin and Sa'ar does, and should motivate Netanyahu to fear for his job.

This will, of course, be a difficult and complex process, one that Sa'ar and Rivlin may not decide to act on, but sources around Netanyahu are taking the threat seriously.

Tensions between Netanyahu and the president elect were obvious even in Rivlin's body language during the Prime Minister's congratulatory speech. Rivlin barely took a moment to turn his head to look at Netanyahu. At the same time, Netanyahu's wife Sara was absent from the ceremony and some are guessing that this was a silent, but purposeful protest.

Even members of Netanyahu's own Likud party were insulted by his moves to exclude Rivlin from politics as he is seen as a uniting figure in a divided coalition. Lead by Naftali Bennett, Bayit Yehudi (generally considered to be one of Netanyahu's closest allies) supported Rivlin.

In wake of the elections, it has become clearer than ever that a feeling of disappointment is slowly gathering influence within the coalition. Individuals and parties within the coalition are fearlessly daring to take stances against Netanyahu and the Likud with increasing frequency.

Senior members of Likud are opening discussing the days after Netanyahu and the lack of his ability to lead and make decisions. It appears, someone said, that politicians are already dismissive of Netanyahu and when that becomes a reality in action by MKs, Sa'ar needs to prepare for future battles against others who will also try to force their way into Netanyahu's position including current Defense Minister Moshe Ya'alon.