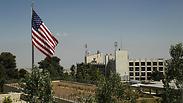 US Consulate in Jerusalem
Photo: Atta Awisat
The American Embassy in Israel, that has consulates in both Tel Aviv and Jerusalem, purchased the Diplomat hotel in the capital.

The consulate's Jerusalem offices are split between the Consul's house on Agron street in the center of the city, and the consulate on Flusser Street.

The embassy holds the option of purchasing land in the Arnona neighborhood, where the consulate is located. This land includes the Diplomat hotel that currently serves the Ministry of Immigrant Absorption.

Following the announcement of the hotel's procurement, the land owners informed the Ministry of Immigrant Absorption that it now must evacuate the immigrants home and the ministry's offices located at the hotel by June 20, 2016.

According to estimates, the evacuation will take a long time, as many new immigrants reside in the complex.

The Embassy currently represents the United states in Jerusalem, the West Bank and the Gaza Strip as an independent delegation, with a US Consulate General that serves as the head of the three consulates. The US Consulate General also provides diplomatic services to American citizens in the area.

A US administration official said that "Under the terms of its commercial lease agreement, the USG has the option to purchase the property we currently occupy in Arnona and acquire our landlord's remaining leasehold interests in the adjacent property, which is the site of the Diplomat Hotel.

"The USG has exercised that option and intends to continue using the site as the Consular Annex of the US Consulate General, where we have provided American citizen services and visa services since 2010. Under the terms of the USG's lease, once the option is exercised, the landlord is required to provide the USG vacant possession of the adjacent property, likely, in 2016."