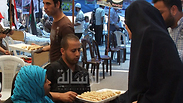 Candies distributed in Gaza
Residents of Gaza have celebrated the presumed kidnapping of three Israeli teens who disappeared while hitchhiking in the West Bank, while Hamas lashed out at the Palestinian Authority for cooperating with Israel to find the youths.

Eyal Yifrach, 19, and 16-year-olds Gil-Ad Shaer and Naftali Frenkel have been missing since Thursday night, and a massive manhunt led by the IDF has been ongoing since. The current assessment is that the boys were kidnapped, but are still alive and somewhere within the West Bank.

Led by families of Palestinian security prisoners, candies were handed out in a protest tent set up in Gaza by families to express solidarity with prisoners serving time for security related offences in Israel, and residents praised the "operation in Hebron", calling for additional kidnappings.

Related stories:

"We are celebrating this formidable operation in Hebron," said Misbach Abed Rabbo, a spokesperson for the families of Palestinian security prisoners.

"We have always called for the kidnapping of soldiers. We view this as the only just solution for freeing our sons from the occupation's prisons," he told Hamas' local paper.

Abed Rabbo further slammed the Palestinian Authority's attempt to aid Israel to find the missing teens, saying officials "should unite behind the Palestinian or keep quite."

When news of the event broke, Palestinian media reported that Palestinian security prisoners openly rejoiced, and that candies were handed it out in Hebron.

Expressions of delight at the presumed abduction have been commonplace in Palestinian social media outlets, with comparisons made between the three and IDF Sergeant Gilad Shalit, who was held captive in Gaza for more than five years.

Hamas slammed Palestinian Authority President Mahmoud Abbas on Saturday for aiding Israel in the search for the three teenagers.

"Security coordination between (Prime Minister Rami) Hamdallah's and Abbas's security services and the enemy to locate the heroes of the Hebron operation and arrest them is a stigma," said Hamas spokesman Fawzi Barhoum.

Despite the condemnation, the Islamist faction has not claimed involvement in the disappearance of the Israelis.