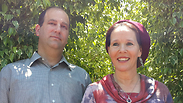 Naftali Frenkel's parents
Photo: Noam Dvir
The families of the Israeli teenagers missing in the West Bank since Thursday night have been praying for the safety of the boys, and drawing comfort from the massive groundswell of support from around the country.

"Naftali – mom, dad and your siblings love you endlessly. Know that Israel will upend worlds to bring you home," Naftali Frenkel's mother, Rachel, said Sunday, in a family statement from their home in Nof Ayalon. "We are optimistic… that God will see the joint efforts of prayer and solidarity and embrace Naftali, Eyal and Gil-Ad."

Related stories:

Shmuel, Gil-Ad Shaer's grandfather, on Saturday night pleaded with Israelis to join in the prayers for the safe return of his grandson. "There's nothing worse than not knowing," Shmuel said.

He called Gil-Ad "a great kid, what more can you ask? This week he took a time-out in order to study for his exams, so he 'fled' home to grandpa and grandma's house to study in a warm and pampering environment, and then he left for the yeshiva. A few hours later we heard he finished his exams and was on his way home. He never made it."

Shaer and friends (באדיבות המשפחה)

Gil-Ad Shaer's sister said that he is "very popular with his friends, well-liked by his teachers and the head of the yeshiva. He helps a lot around the house and likes to bake. When he comes home, we know there'll be baked goods. He's always in touch with his siblings, loves to read and really loves listening to music. He studies hard and loves to go study at grandpa and grandma's."

A friend of Gil-Ad from Talmon said that Shaer's parents, Bat-Galim and Ofir, regularly drove him to the yeshiva, but were unable to take him this time. "There are two buses here - one during the day and one in the evening. There is no choice but to hitchhike. Sometimes the wait at the hitchhiking stop could last hours and into the night. Gil-Ad is very responsible and is always in touch with his family."

Yishay Frenkel, Naftali Frenkel's uncle, painted a picture of his nephew as being like most Israeli youngsters: "He's a basketball player and plays the guitar. He had the same dreams any Israeli teen has: to serve in the army and contribute to the state."




He said that Naftali, who is in the 11th grade, is in the midst of final exams at the yeshiva. He is the son of an educator and lawyer, and of a police officer. He is the second son of seven.

"The family experienced a difficult Shabbat, very tense," Yishay continued. "We're optimistic and waiting for what's next."

He praised the Israeli security forces' efforts to find his nephew. "It's very important for us to thank the security forces and whoever is out there looking. I think the defense system is doing a lot, and I want to support them," he said. "We are being taken care of and we really appreciate it. We're receiving a lot of support."

Naftali Frenkel (באדיבות: המשפחה)

Naftali is a dual Israeli-American citizen and his uncle said the family is in touch with the US Embassy as well.

The Police's Central District Commander Bruno Stein visited at the Frenkel family home to update Naftali's relatives about the investigation.

Like the other two teens, Eyal Yifrach's family home in Elad was also flooded with visitors. Dozens arrived for a mass prayer at the end of the Shabbat in front of the Yifrach home. Eyal's mother Iris, father Uri and his six siblings gathered in their home all Shabbat, waiting for news.

"This is a strong, noble and reserved family," said Efi Stern, the head of security in Elad.

Prayer rally in Elad (צילום ועריכה: אורות)

Yitzhak Dabul, a neighbor of the family, said: "I have known Eyal from a young age, a great kid. He just finished his final exams not too long ago. He loved playing basketball. They have a hoop in their yard and he always plays with his siblings. The family is a strong family, a family of faith. People came here all Shabbat long to read from the Book of Songs and pray. We hope he comes home safely."

Eyal decided to study at the Shavei Hevron yeshiva because of his good friend Efi Harel, who was killed in a car accident. Relatives say Efi convinced Eyal to study at the yeshiva.

"They're not just people. These are young people with values, who were going to go to a yeshiva and then join combat units in the army," relatives said.

At first, Eyal went to the Darchai Noam yeshiva in Petah Tikva, and from there went to study at an army preparatory program. During his time there, he decided to postpone his army enlistment to study at the yeshiva and then join a combat unit.

Eyal was also a counselor in the Ezra youth movement in Elad. "These are young fighters, serious, good youths who want to give back to the country," friends said.

Other support rallies took place across settlements in the West Bank. Dozens of residents from Beit Hagai, south of Hebron, congregated near Road 60 and waved Israeli flags in solidarity with the three teens.

"It can't be that teens are kidnapped and Palestinians continue moving freely across the West Bank without paying any price," said Meir Dana Pinker, who attended the rally.

Thousands of people arrived at the Western Wall on Saturday night to pray for the safe return of the three teens, among them Deputy Minister of Religious Affairs Eli Ben-Dahan and the Sephardi Chief Rabbi Yitzhak Yosef.

Mass prayer at Western Wall (צילום: אביתר גת)

Yehuda Wachsman, whose son Nachshon was kidnapped by Hamas and killed during a rescue operation in 1994, was also at the Western Wall prayer.

"The parents are in a state of helplessness and uncertainty," Wachsman said. "This is a very difficult emotional state that cannot be described. I've been there and I can say it is impossible, mentally. They need a lot of support."

Wachsman stressed that "the kidnapped teens are a part of us. The entire nation of Israel needs to come together and work to free our children from the hands of these terrorists, and stand strong and firm so the security forces could bring them home."

The Makor Chaim yeshiva in Kfar Etzion, where Gil-Ad and Naftali are students, held a special meeting of the yeshiva's faculty and students, to talk about the recent days' events, and pray for their safe return.

One of the yeshiva's faculty members said that they constantly remind the students not to hitchhike, but, he noted, "this is an everyday struggle. We're trying to convey this message but life is stronger than everything. Public transportation here is relatively scarce and teenagers hitchhike."

President Shimon Peres also offered his own support in conversations with the parents of the three teens.

"I know you're going through difficult times and you are under stress and anxiety," Peres said. "I want to stress that we are one people - the entire nation of Israel is with you in these moments. You're showing mental strength, and I embrace you."

Eyal Yifrach's parents thanked the president and said: "We are feeling the people of Israel's embrace and know that everything is done to bring the boys home. We pray for the boys' return and for good news."

Italy Blumental, Ra'anan Ben Tzur, Omri Efraim, Ahiya Raved, Kobi Nachshoni and Noam "Dabul" Dvir contributed to this report.