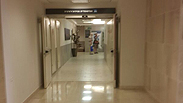 Assuta Medical Center
Photo: Eli Senyor
Palestinian President Mahmoud Abbas' wife had surgery at a private hospital in the heart of Israel, even as Prime Minister Benjamin Netanyahu assigned him responsibility for the fate of the three boys kidnapped in the West Bank, Ynet learned Sunday.

Last Friday, Amina Abbas, mother to the Palestinian leader's three children, underwent a procedure on her leg. She was released Sunday after a hospital stay handled with extreme discretion by the staff at the private Assuta Medical Center in Tel Aviv.

Amina Abbas stayed at the surgical ward on the seventh floor of the newest hospital building in Israel. She was assigned a private room – with guards at the door at all hours – on Thursday.

Related stories:

The medical center kept her identity private; other patients in the ward were kept in the dark about the VIP in the room, receiving only evasive answers when they questioned the heavy security.

Israeli officials refused to comment on the details of the arrangement.

The Israeli health care system is decades ahead of its Palestinian counterpart and Palestinian officials often take advantage of its proximity to these services. Most recently, the granddaughter of Hamas leader Ismail Haniyeh was hospitalized in Schneider Medical Center in Petah Tikva.

Yaron Kellner and Elior Levy contributed to this report.