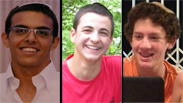 Abducted teens
Photo: Shaul Golan
One of the boys kidnapped Thursday evening near Gush Etzion called the police seconds after entering the vehicle, yelling "We've been kidnapped." The information was cleared for publication on Sunday – two days after searches began for 16-year-olds Gil-Ad Shaer and Naftali Frenkel, and 19-year-old Eyal Yifrach.

According to reports by Channel 10 News, which cited senior police sources, a soldier serving her mandatory military service with the police took the phone call from the kidnapped teen. She reportedly called on her commanding officers to hear the conversation, but they arrived at the conclusion that the call was from a prankster.

The call came in at 22:25pm, but police failed to inform the IDF and Shin Bet. Suspicion of a real situation was only evident after the father of the one of the kidnapped boys arrived at a police station at 03:00am.

Related Stories

Judea and Samaria police declined to comment on the veracity of the report.

"There are many details related to the investigation into the kidnapping," the police said Saturday. "At present, we are not confirming or denying any details of the investigation, and are focusing on the massive effort underway together with the IDF and Shin Bet."

Meanwhile the IDF continued its search operations in the Hebron region. The IDF has deployed northwest of the city since being informed of the possibility of a kidnapping – several hours after police received the initial details.

Soldiers manned security checkpoints at the entrances and exits to Hebron, the largest city in the West Bank. The increased activity is intended to pressure the local population and prevent the movement of the terror cell that conducted the kidnapping and any possible transfer of the victims.

The checkpoints deployed by the IDF have allowed passage to Palestinian pedestrians and vehicles, but only after soldiers conduct thorough searches.

The IDF said the intention was not to harm the Palestinian population or to disrupt daily life. Additional arrests are expected Sunday night, as the IDF attempts to breach the inner circles of the Hamas cell behind the abduction.