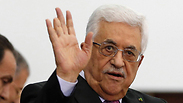 Palestinian President Mahmoud Abbas
Photo: Reuters
Palestinian President Mahmoud Abbas lashed out against the culprits behind the kidnapping of Eyal Yifrach, Gil-Ad Shaer and Naftali Frenkel, using harsh words: "Those who carried out the kidnapping want to destroy us," Abbas said on Wednesday.

"The three teens are human beings like us and they should be returned to their families," he said, adding that "It is in our interest to have security coordination with Israel because that would help protect us."

"I say it frankly, we will never have another Intifada—that would destroy us," he explained.

Abbas further said that once the kidnappers are found, his government will "settle accounts with them."

Related stories:

Abbas, who was speaking at the Islamic Conference of Foreign Ministers, made it clear that he has no interest in returning to the days of an intifada. He noted that Americans spoke with him regarding the kidnapping and told him that one of the abductees is an American citizen. "We told them that it does not matter whether he is an Israeli or an American, he is a human being."

The Palestinian president claimed that Prime Minister Benjamin Netanyahu took advantage of the kidnapping to operate in Palestinian Authority territories and lay the entire blame on it, despite the fact that the kidnapping was committed in an area that is not under Palestinian security or civilian control.

Meanwhile, Prime Minister Benjamin Netanyahu met with a delegation of dozens of mayors from around the world that is visiting Israel. At the opening of the meeting, Netanyahu praised IDF forces' activity overnight Tuesday.

"The IDF and the Shin Bet re-arrested dozens of Hamas terrorists, including many of those who were released under the agreement for the return of Gilad Shalit. I commend the men and commanders – the IDF, the Shin Bet and the police. They are doing and have been doing an excellent job. From the moment we made the decision in the cabinet, they conducted the complex operation successfully, in less than a day."

The IDF arrested 64 Palestinians overnight Tuesday, including 51 Hamas members who were released in the Gilad Shalit prisoner exchange deal as Operation Brother's Keeper entered its sixth day.

Through Wednesday, 240 people were arrested as part of the Israeli military's operation to retrieve the three teens who went missing in the West Bank on Thursday night, including 180 Hamas operatives; some 800 structures have been searched.

A senior military source said earlier Wednesday: "We operated in the entire West Bank: 300,000 people are under siege or closure, and this is beginning to hit home after eight years of relative well-being."

Roi Kais, AFP and Associated Press contributed to this report.