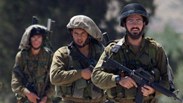 IDF forces in the West Bank
Photo: EPA
Military sources noted a rise in tensions Thursday between soldiers and Palestinian civilians who apparently threw rocks and homemade explosives at IDF forces in Jenin who returned fire in the early hours of Thursday morning.

"There is increasing friction compared to activities from previous nights," an IDF officer told his soldiers in a briefing. "We fired at two people throwing explosives in the Jenin refugee camp and we hit them back. There has also been some friction in the Bethlehem area."

An estimated 30 additional Palestinians were also arrested by security forces, bringing the total to 280 since three Israeli teens were kidnapped in the West Bank last Friday.

Related Stories

Marking the beginning of the seventh day of operation Brother's Keeper in the West Bank, the overnight arrests included the search of over 100 buildings. Some 200 of those arrested in operations so far are members of Hamas.

IDF raids focused on Civil Administration buildings in Hebron, Nablus, Ramallah, and Jenin indicating an expansion of operations which have mostly centered on Hebron over the last week.

The purpose of the raids seemed to be a search for intelligence documents and other propaganda linking the associations to Hamas and harming the credibility of the organization.

At Birzeit University, IDF forces captured vehicles carrying large amounts of items labeled as incitement by security forces. These included thousands of Hamas flags, pictures of martyrs, signs and magnets.

Meanwhile, Israel responded to rocket fire on Israel Wednesday night, with IAF jets attacking a number of terror targets in retaliation. According to a Palestinian report, one person was wounded in the attack.

Security officials said that the Islamic Jihad is most likely responsible for rocket fire from Gaza since the beginning of the IDF operations in the West Bank.

Eyal Yifrah, Gil-Ad Shaer and Naftali Frenkel were kidnapped one week ago Thursday apparently while hitchhiking near Hebron. Israeli police have since been accused of responding poorly to the incident after it was revealed that one of the kidnapped teenagers called the police who assumed the call to be a prank.

Hamas operatives are the chief suspects as perpetrators of the crime, though it is unclear what role, if any, the leadership of the organization had in overseeing the abduction.