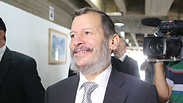 Lupolianski arriving in court
Photo: Yaron Brener
After May's sentencing of former Prime Minister Ehud Olmert, former Jerusalem Mayor Uri Lupolianski was dealt the same six years sentence Thursday morning on corruption charges in connection to the Holyland affair, despite Judge David Rozen's initial hints that he would be inclined to go easy on Lupolianski's sentencing.

Lupolianski served as Olmert's successor as Mayor of Jerusalem. Investigations found that during his tenure in the city, Olmert accepted bribes to overlook building codes for the construction of the Holyland buildings.

Lupolianski also took part in the scandal during his time in office though investigations showed that he did not accept bribe money himself, instead channeling the NIS 2,579,357 to Yad Sarah, an organization mainly assisting low-income individuals with gaining access to medical supplies.

Related Stories

In the end, Rozen decided that despite Lupolianski's donation to a charitable cause, his failure in duty to the public was severe enough to merit a tough sentence. "The defendant's actions served to undermine the public's confidence in its leaders," said Judge Rozen during sentencing.

Upon leaving the courtroom Lupolianski quoted from the Book of Psalms, "Though I walk through the valley of the shadow of death, I will fear no evil."

Rozen also addressed Lupolianski's medical condition as he battles cancer. "I took (his condition) into consideration," he said.

Lupolianski's lawyers Amos Van-Emden and Shulamit Harel Schwartz responded to the sentencing saying, "We'll appeal to the Supreme Court. We consider the verdict to be wrong. In our opinion the sentence is incorrect for his (Lupolianski's) actions and medical condition."