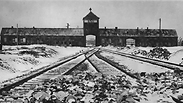 Auschwitz, illustration
Photo: EPA
A decade after a court ruling allowed him to live out his quiet, middle-class life in the US, an 89-year-old Philadelphia man faces possible extradition to Germany on charges he aided in the killing of 216,000 Jewish men, women and children at a Nazi death camp.
Johann "Hans" Breyer, a retired tool-and-die maker, is being held without bail on allegations stemming from his suspected service as an SS guard at Auschwitz during World War II. He was arrested Tuesday outside his home in northeast Philadelphia.
Related stories:
Earlier that day, the district court in Weiden, Germany, issued a warrant charging him with 158 counts of complicity in the commission of murder. Each count represents a trainload of Nazi prisoners from Hungary, Germany and Czechoslovakia who were killed between May 1944 and October 1944, according to US prosecutors.
Attorney Dennis Boyle argued in federal court in Philadelphia on Wednesday that Breyer is too infirm to be detained pending his Aug. 21 extradition hearing.
Breyer, wearing a prison-issued jumpsuit, appeared frail and carried a cane as he was helped to his seat. He has mild dementia and heart issues and has previously suffered strokes, Boyle said.
"Mr. Breyer is not a threat to anyone," said Boyle. "He's not a flight risk."
But Magistrate Judge Timothy Rice ruled the detention center was medically equipped to care for Breyer. The elderly defendant appeared to comprehend questions about the nature of the hearing, though one of his grandsons testified Breyer's dementia has worsened recently.
Breyer has been under investigation for years by prosecutors in the Bavarian town of Weiden, near where he last lived in Germany. He has resided in the US since 1952.
Breyer has admitted he was a guard at Auschwitz in occupied Poland, but he told The Associated Press that he was stationed outside of the Auschwitz-Birkenau death camp part of the complex. He denied having anything to do with the wholesale slaughter of about 1.5 million Jews and others behind the gates.
"I didn't kill anybody, I didn't rape anybody -- and I don't even have a traffic ticket here," he told the AP in a 2012 interview. "I didn't do anything wrong."
Thomas Walther, a former federal prosecutor with the special office that investigates Nazi war crimes in Germany, now represents family members of some of Breyer's alleged victims as co-plaintiffs in the case. He called for a speedy extradition.
"The German court has to find late justice for the crimes of Breyer and for the victims and their sons and daughters as co-plaintiffs," Walther wrote in an email to the AP. "It is late, but not too late."
The US government tried to revoke Breyer's citizenship in 1992 after discovering his wartime background. His American citizenship stems from the fact his mother was born in the US; she later moved to Europe, where Breyer was born.
The years-long legal saga appeared to end with a 2003 decision by the 3rd US Circuit Court of Appeals, which found Breyer had joined the SS as a minor and could therefore not be held legally responsible for participation in it.
As he was being arrested Tuesday, Breyer asked law enforcement officers to retrieve papers in his home that document his right to stay in the US, according to deputy marshal Daniel Donnelly.
Efraim Zuroff, the head Nazi hunter at the Simon Wiesenthal Center in Jerusalem, said he hoped there would be no obstacles to Breyer's extradition and trial overseas.
"Germany deserves credit for doing this - for extending and expanding their efforts and, in a sense, making a final attempt to maximize the prosecution of Holocaust perpetrators," he said in a telephone interview from Jerusalem.